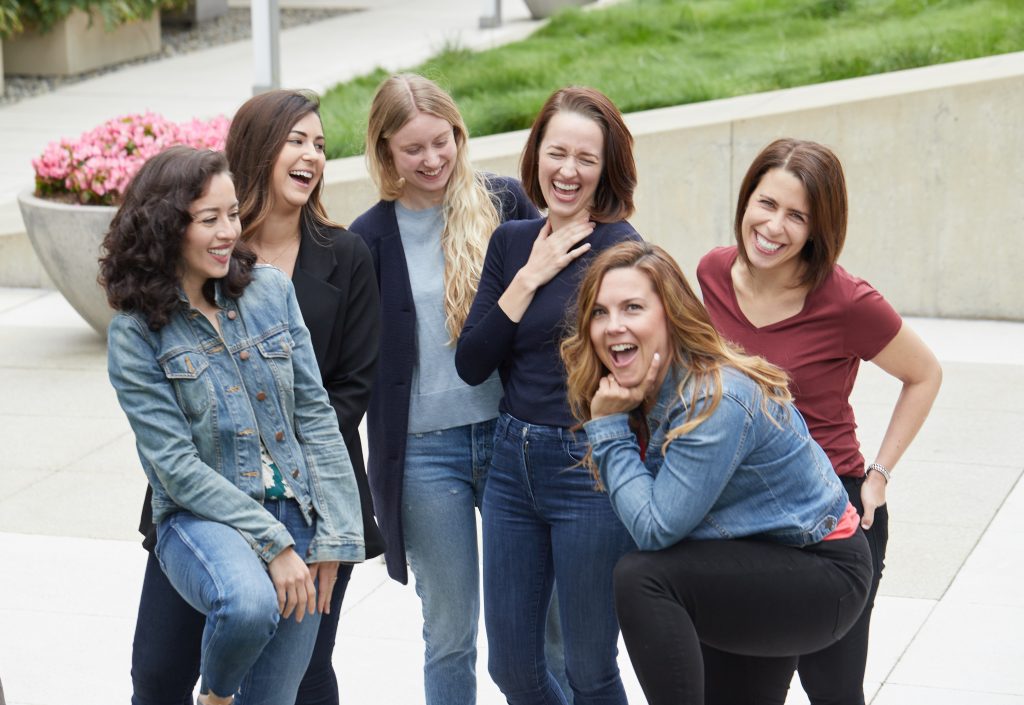 (Our current adorable team — minus our lovely organizers Linda + Melissa!)
---
While we are not currently hiring, we always love to connect with organizing enthusiasts. Our company information and general position description is below and all are welcome to send their resume to keep on file!
The Company:
Practically Perfect is a Los Angeles based organizing and lifestyle company devoted to constructing creative and functional solutions that simplify daily activities and exemplify practicality. Co-founders Joni and Kitt are Certified Professional OrganizersⓇ who founded the company in 2014 with a mission to help clients achieve tranquility in their lives through organizational systems that are realistic and maintainable.
Practically Perfect is proud to have been recognized among the best professional organizing companies in Los Angeles. We are a company that meets the professionalism of a high end service industry with the fun loving atmosphere of hanging out with your besties.
The Practically Perfect team has a reputation for taking great care of our clients and employees alike. We are pleased to be able to offer flexible work schedules and opportunities for growth.
The Position:
Practically Perfect Professional Organizer (part-time)
Being a member of our team means representing the Practically Perfect brand and upholding our company's reputation for exemplary professional organizing services. Our team of professional organizers is devoted to promoting order in the homes and the lives of our clients. Each Practically Perfect project is unique. The duties of our organizers change depending upon the specific needs of each client – but there is always a commitment to providing exceptional results.
The Responsibilities:
Oversee multiple, concurrent projects and project teams
Attend weekly team meetings, participating meaningfully in discussions of current and future projects
Handle client communication and manage client expectations
Have in-depth knowledge about organizing products and trends
Strive to accomplish client objectives by working independently and with other team members to create organizing solutions and systems distinct to each client's needs
Enhance the lives of clients by creating processes and systems using organizing principles and systematic skill
Manage projects by updating client records, monitoring project hours and adhering to budgets
Establish rapport with potential and current clients
Contribute to a team effort by accomplishing related jobs and tasks outside client spaces as needed
Participate in professional development opportunities and read relevant publications to stay current and on trend in the field of professional organizing
Be a team player with a vested interest in the success and growth of the Practically Perfect company
The Requirements:
Experience in a relevant field of work, including professional organizing, interior design, home staging, project management, events, personal assisting, retail, and/or merchandising
Desire for longevity and growth within our company
Passionate about helping others live a clutter-free life
Excellent time management skills
Able to prioritize and complete set tasks within a given time frame
Extreme attention to detail
Flawless interpersonal skills and professionalism
Clear & concise written and verbal communication skills
Patient, empathetic and nonjudgemental with others
Commitment to client confidentiality
Comfortable working discreetly with high profile clients
Collaborative with clients as well as other team members
Calm under pressure and in areas of clutter
Capable of managing budgets + organizing receipts
Able to quickly identify necessary and unnecessary objects in a room
Understanding of function and aesthetic furniture placement within a room
Awareness of available storage solutions and organizing products
Able to navigate effectively via apps such as Notes + iPhoto
Licensed driver with own car, valid and current driver's license, registration and driver's insurance
Traffic-savvy and able to navigate Los Angeles efficiently
Valid and current health insurance
Personal/home computer, as it relates to client communication + project management
Ability to lift 25 pound boxes to a height of 3-4 feet and place them on high shelves or load them into trucks
Ability to occasionally ascends/descend a ladder to service high shelves and storage spaces
To Apply:
Please email the following to [email protected] (attn: Joni, Kitt + Devan) in order to keep your resume on file as new positions open up:
Current resume
Cover letter
2-3 professional references
Photos of spaces you have organized (in your personal or professional life)
Please answer the following questions in your email:

What spaces do you love to organize — and why?
What do you think would be the most fun part of working for Practically Perfect? What do you think would be the most challenging?