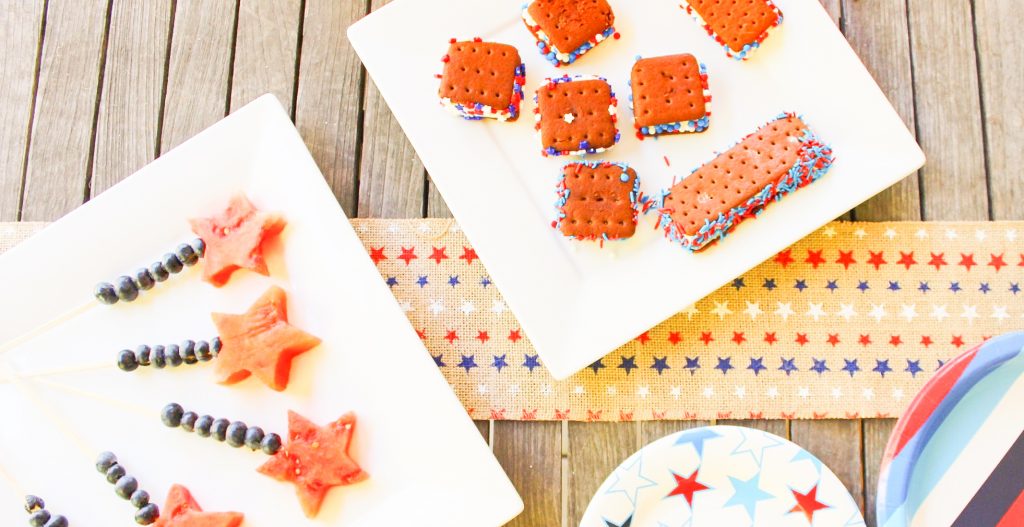 2 (treats) + 2 (ingredients each) = 4 (th of July)
Summer is in full swing, which likely means you're gearing up to host or attend a 4th of July celebration very soon. Hopefully your plans include getting outdoors and soaking up some sunshine. If so, we've got a few cool and refreshing crowd-pleasing treats that couldn't be easier to make. We love both of these holiday-themed goodies because they are incredibly easy to make. Each treat only has two ingredients — and they can be prepared and assembled in about two minutes each, as well. They're kid and parent approved on all counts: the little ones can essentially assemble them on their own, they're undeniably delicious, and one of them is even nutritious! We've prepped a shopping list here for you – so that's even one less step… Need we convince you any further to make both of these right away?
Here's hoping that these help you to stay cool and add a little fun to your 4th of July celebration!
Sprinkled Sandwiches
Shopping List
Assembly
Spill some festive sprinkles onto a plate. Unwrap ice cream sandwiches and dip each side into the sprinkles.
Tip: don't allow the ice cream sandwiches to sit outside the freezer very long, as they will become soft and will be more likely to break.
Place these colorful creations onto a platter and return them to the freezer until you're ready to enjoy them.
Star Wands
Shopping List
Watermelon
Blueberries
Bamboo skewers
Assembly
Slice the watermelon into 1″ thick pieces. *This step is for adults only, please!
Press the star cookie cutter into watermelon slices.
Tip: plan ahead before inserting the cutter so that you can get as many stars as possible from each slice.
Cut up extra watermelon "scraps" to enjoy immediately or refrigerate for later.
After washing blueberries, slide them onto the bamboo skewers. Use your own creative eye to determine how many you'd like — but be sure to leave some space on the bottom for holding the wands.
Tip: large blueberries work best!
As a finishing touch, attach one watermelon star to the top of each skewer – and enjoy!
---
For more inspiration, check out: