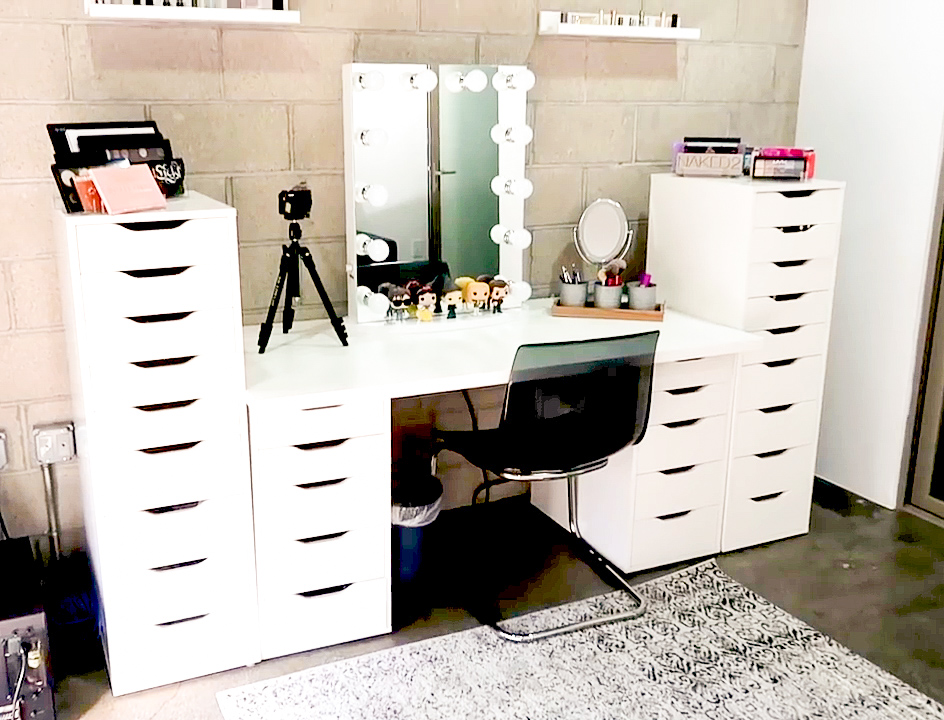 Last month, Practically Perfect had the opportunity to organize with YouTuber Safiya Nygaard, a fashion and makeup-savvy vlogger extraordinaire, who wanted to makeover her makeup room. Check out some of the details below, including a quick DIY on how to transform your own space. And click here to see the full video!
THE DETAILS
Safiya's makeup room was a former videography/editing/storage room that had recently been emptied and was housing just a single dresser (which Kitt immediately identified as an IKEA piece!) Much of Safiya's extensive makeup collection was contained in a variety of anonymous bins and jars on a shelving unit in her closet. There was more makeup in her dresser… and more on top of the dresser… and some on her desk in the other room. We knew that we needed to create a Practically Perfect solution!
THE WISH LIST
Safiya's first priority was having a way to store and display all of the beauty products so that each item would be accessible. Because finding certain products required her to dig through her collection, she found that they weren't winding up in her videos. She wanted to be able to use everything that she owns.
Her second request was that the display should "raise the overall level of cuteness." As professional organizers, Pinterest-addicts and Instagram aficionados, we're all about the cuteness.
Safiya also needed a workspace to apply her makeup. The current system of lugging armfuls of makeup to her editing room was just not feasible.
And lastly, she wanted a space to sit and film her makeup application. Design time!
Please note: some links in this post may contain affiliates. For more information, please read our disclosure agreement.
THE DESIGN
Once we had an overview of the room and Safiya's needs, we were ready to create the design for the overall workspace. We decided to incorporate the Alex Dresser, which was similar to the one that was already in use, to add additional storage for all of Safiya's beauty products. We also procured a tabletop for makeup application and video creation. And of course, no makeup room would be complete without the perfect vanity.
(We'll show you the finished piece and all of the items that we used at the end of the post. Feel free to scroll down now if you just can't wait!)
THE LOGISTICS
Once we had a design plan and some lovely open floor space, our next move was to SORT. ALL. OF. THE. MAKEUP.
Our team jumped right into the sorting and editing process with Safiya. She was a rockstar at separating and tossing, sometimes with a little help from her boyfriend Tyler.
Eventually, all of the lipsticks, eye products, concealers, foundations, blushers, highlighters, etc. were sorted and edited. Then we began placing them into the containers we had purchased.
To meet Safiya's goals, we knew that we needed items that would both categorize and display her products in the drawers and on the table… ensuring maximum cuteness!
Next, it was time to assemble the vanity table and start placing the collection into its new home.
Although IKEA assembly is the bane of many people's existence, we pretty much love it.
With a little bit of elbow grease, some meticulous placement, and a whole lot of Safiya's comedic spirit keeping us laughing, we moved every makeup and beauty product into her new workspace. Voilá!
We turned some of Safiya's favorite makeup into a beautiful display on the tops of the dressers and minimally decorated the table with some of her favorite brushes and a magnifying mirror. We also added a few floating book ledges to display some of Safiya's treasured items, giving the space a personal touch.
Below, we give you a peek of what's inside the drawers!
Our Practically Perfect team deeply loved this project. It was a fantastic few days of organizing and filming, thanks to the lovely Safiya Nygaard and Tyler Williams.
We hope you feel inspired to get your own makeup collection organized, too! Below is a short DIY to create your own makeup station:
Step One: Take A Trip To IKEA
Pick up your Alex Tall Drawers and Alex Short Drawers to combine with the Linnmon Table Top. Keep in mind that an extra table leg is recommended for support.
Step Two: Assemble
Once you've gotten those goodies home, get your assembling groove on! You'll need a hammer, flat-head and Phillips screwdrivers, a ruler, a pencil, and a little dedication. If this is not at all your jam, you can of course utilize IKEA's assembly service.
Step Three: Ordering Your Vanity
Vanity lighting is a must for any makeup station. We like the Chende Vanity from Amazon (and we love Prime shipping!) Once it arrives, simply set it up on your new workstation.
Step Four: Get Your Organization On
Grab your favorite makeup containers, and let the organization begin! There are tons of options to choose from. Here are a few of the Luxe Inserts we used with Safiya:
Step Five: The Final Product
Add your own, personalized finishing touches to your makeup station… and ENJOY!