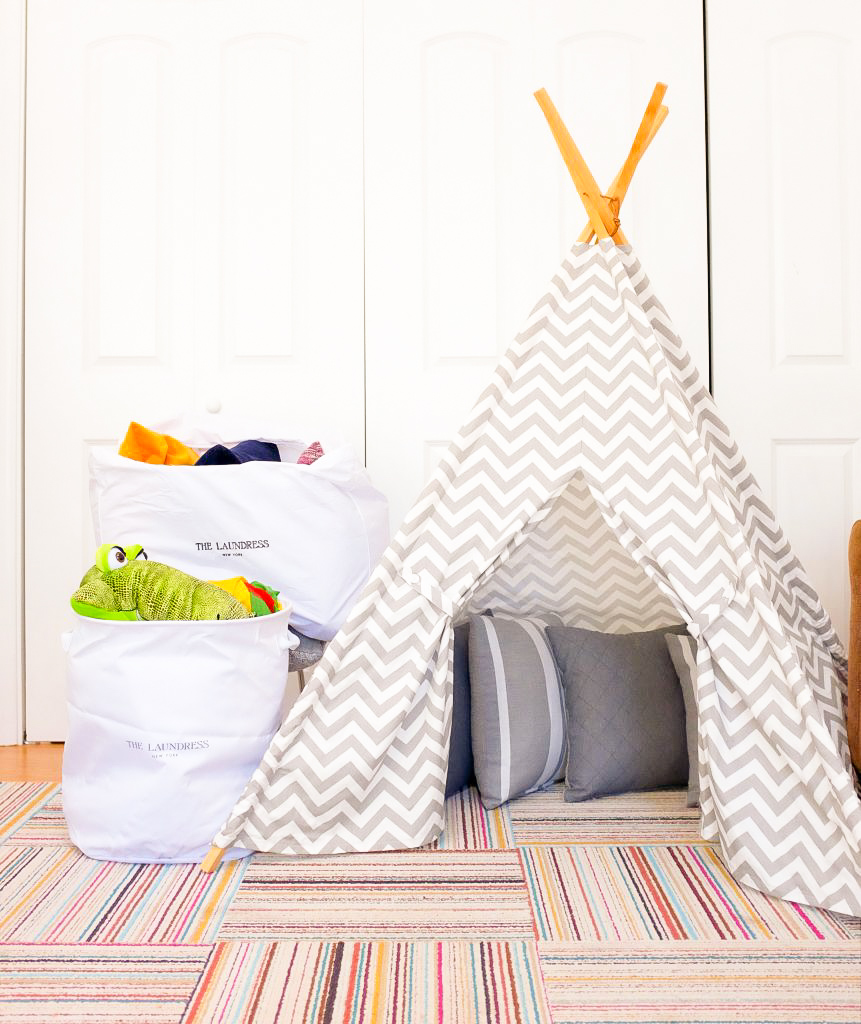 At Practically Perfect – with six kiddos among the co-founders' families alone! – we love a good playroom project. From fort building and book nooks to craft corners and costumery, we've seen and organized it all. This month we had fun re-working a playroom with The Laundress' newly-released line of home organization products.
We decided to tackle just a few areas of the playroom that needed the most love.  If you're looking for a short and sweet makeover, we recommend picking just one or two spots at a time — perhaps just the toy bins or the craft supplies, or simply an overstuffed shelf.  This will allow you the time to really dig in without becoming overwhelmed.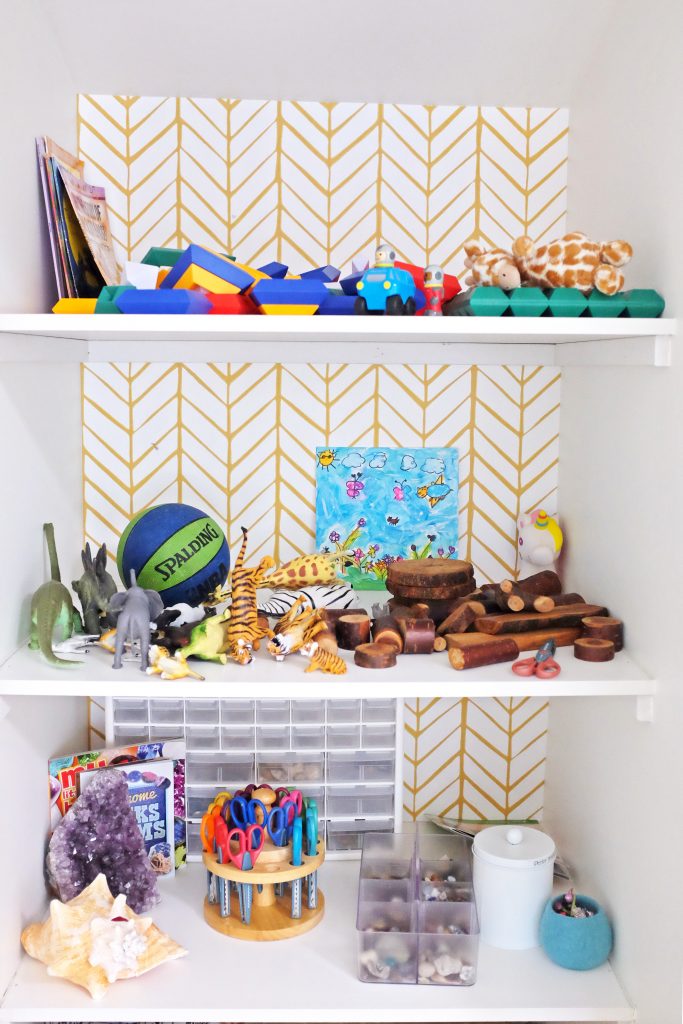 This bookshelf is a true-to-life example of what a playroom looks like after kids actually play in it. As both professional organizers and moms, we wholeheartedly believe that creating a home for everything is essential to involving kids in clean up time — and we quickly recognized that The Laundress' Storage Cubes would be a practical solution for these playroom shelves.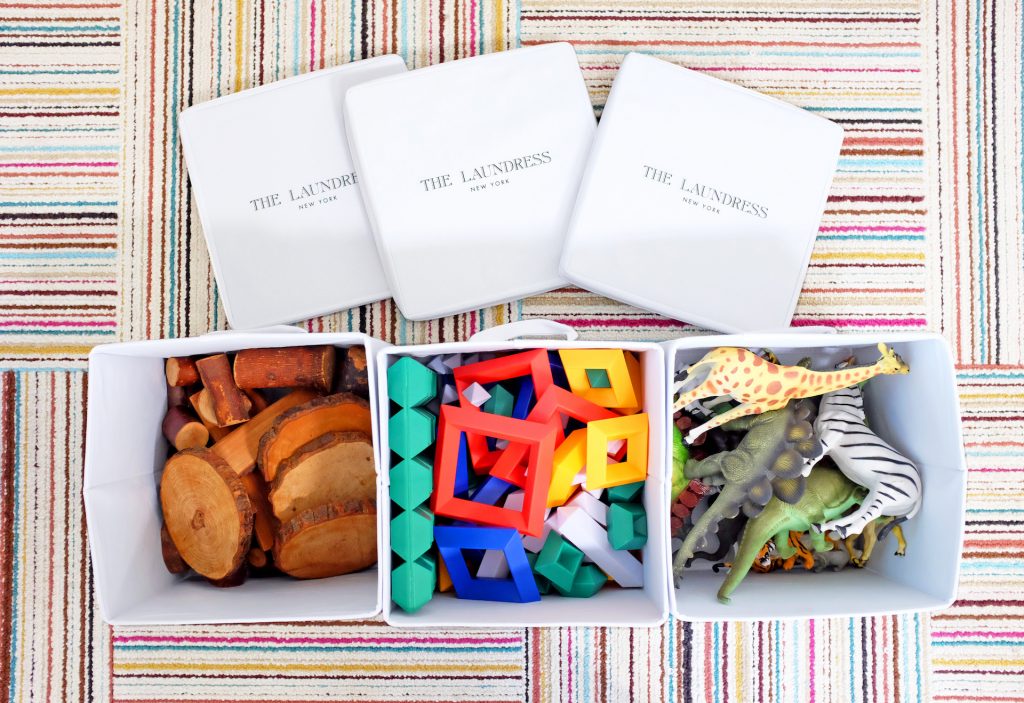 The storage cubes are the perfect size for storing collections of toys. We love how crisp and clean they look. And as lovers of all things labeling, we especially appreciate the built-in label pocket!
When labeling a play space, it's important to take into account the ages and stages of the kiddos.  We recommend including text and photos for pre-readers so that they can still be independent at play time as well as clean-up time.  It's also important to choose a labeling system that can be flexible and can be changed over time, as needed.  As always, consider what would work best for your own kids!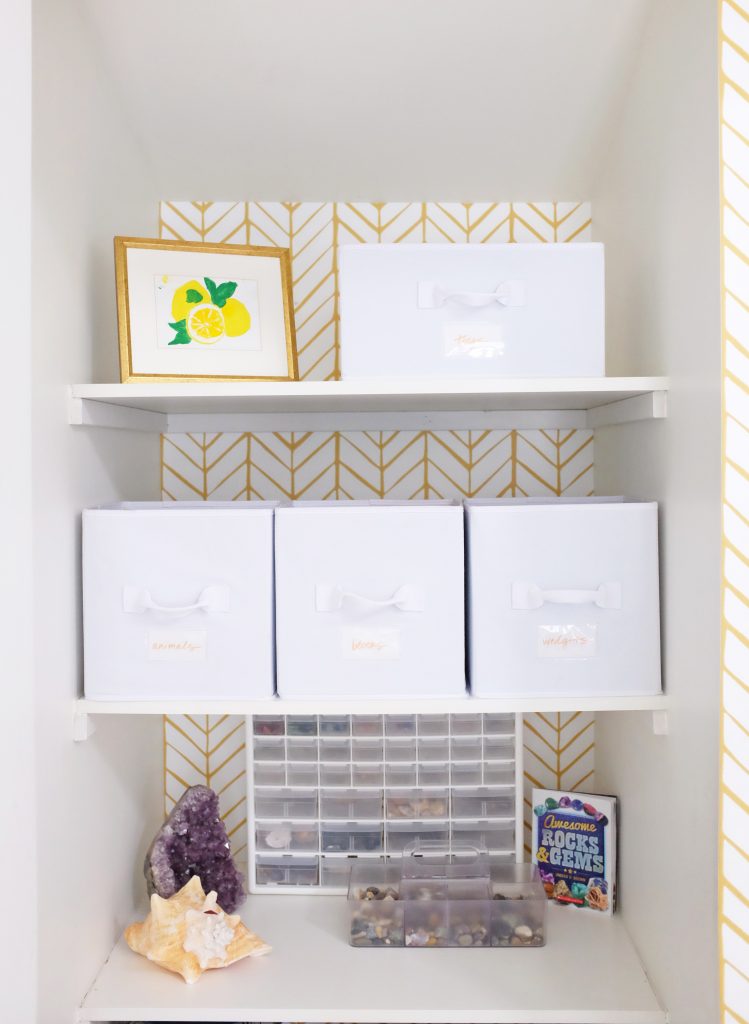 When choosing containers for your spaces, be sure to consider both your household functionality and aesthetic preferences. Are your kids likely to put lids back onto bins, or is that not realistic? Would you prefer to see what's in each container or keep everything tucked away? Follow your instincts! Whatever you decide, make sure that you're selecting items that offer both function and fashion.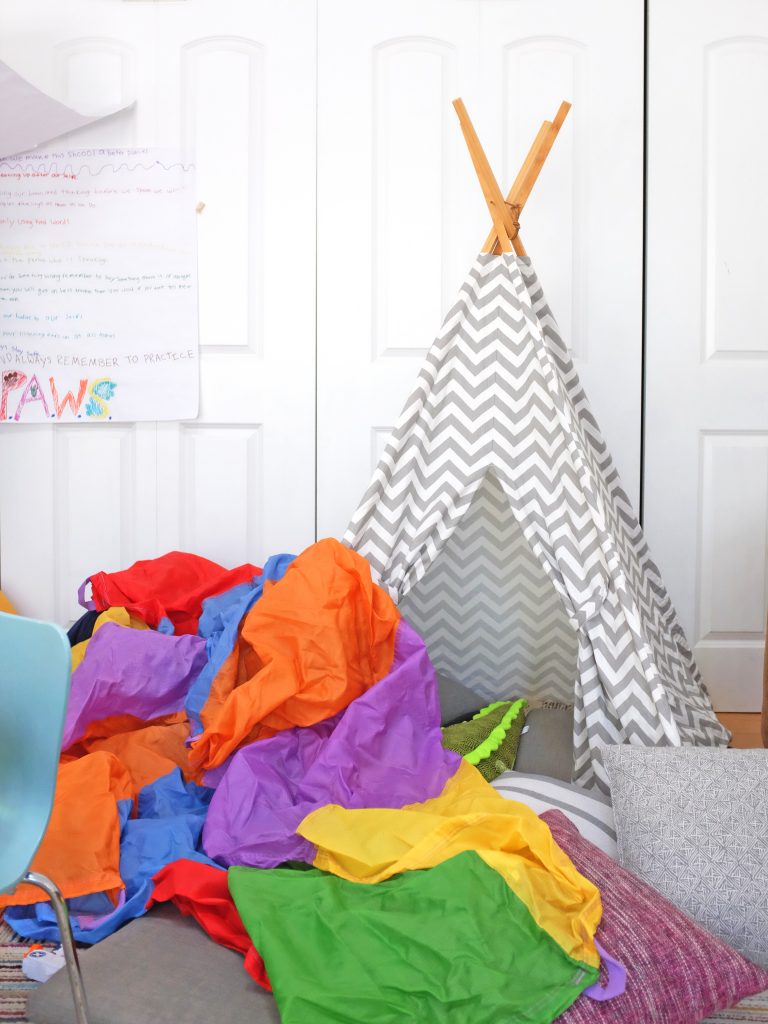 This photo was taken post-playdate, when the teepee and surrounding area had enjoyed some intense imagination time and soft materials and stuffed toys were strewn all about.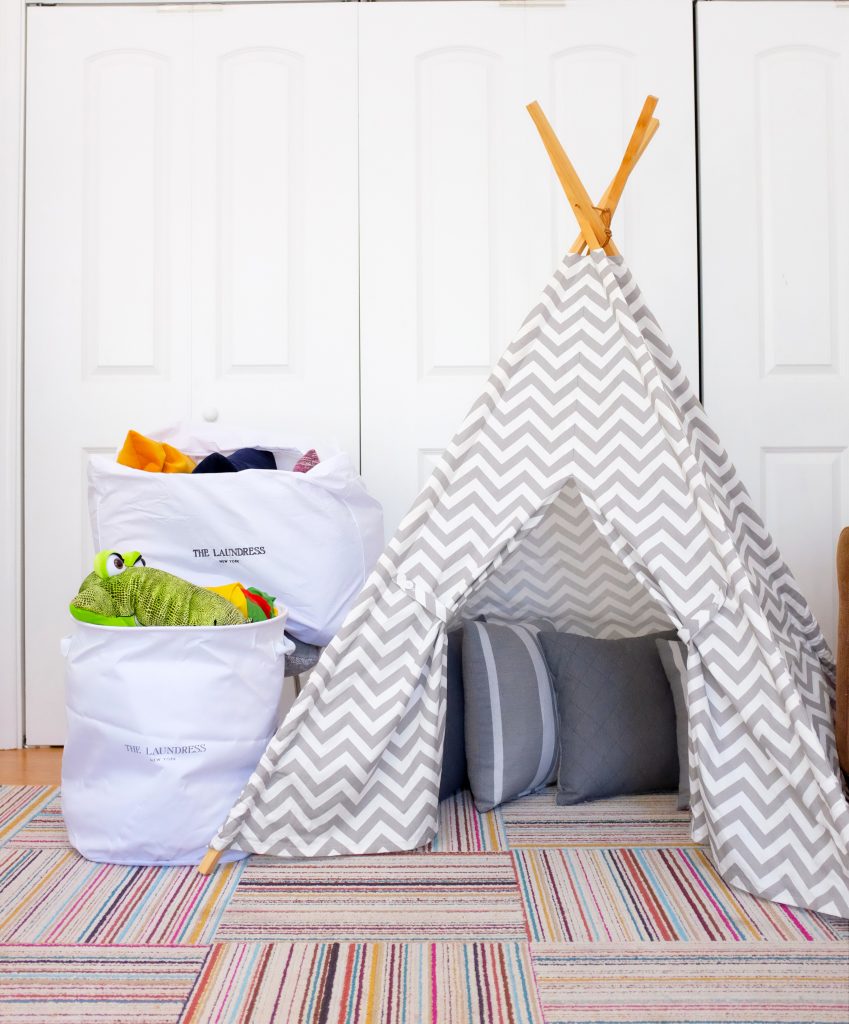 We always recommend playroom containers that are easy to empty and fill, to ensure a quick clean-up and happy kiddos. We found the Collapsible Hamper to be the ideal home for the oversized parachute and stuffed animal collection. It's attractive enough that it doesn't need to be stored out of sight when it's in use, and the collapsibility is also a huge plus — we appreciate anything that takes up less space when it's not in use.
We also love to find new uses for products, so we chose the Large Zip Laundry Bag to store pillows in. This bag felt like an easy way to transport fort building supplies from one space to the next. While traditionally used in a laundry room or linen closet, it's versatile and neutral enough to use in this playroom, too!
Don't be afraid to use products in out-of-the-box spaces or to repurpose them in creative ways. Consider a toolbox as an art supply organizer, food storage containers for beads or loose toys, a mail sorter as a homework station… the list goes on!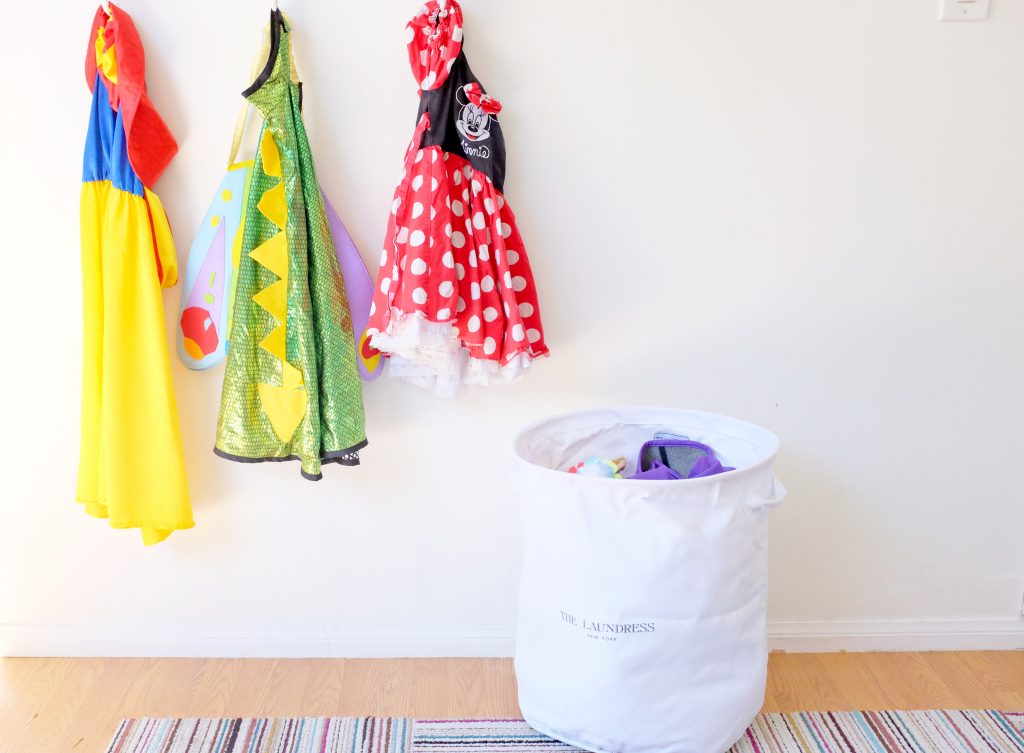 Dressing up is one of our kids' favorite pastimes, and displaying adorable items is one of ours… so it made sense to also utilize a Collapsible Hamper to organize this collection of costumes.
We decided to display a few of the kids' favorites on hooks for easy access — and also to up the cuteness factor! We often opt for hooks or bins when it comes to setting up organizing systems for costumes and dress-up clothing, as hangers tend to deter the little ones from tidying up. Dropping something onto a hook or into a bin can feel a lot less intimidating and time-consuming than wiggling it back onto a hanger.
And with that, three of our playroom spaces got a beautiful new refresh!
Remember to start small and be targeted in your organizing. What works for another home may not be best for yours. Your system just needs to be PRACTICAL and PERFECT for you!
We had a great time incorporating some pieces from this new line of products into this playroom. If you're in the market for some quality cotton canvas products to help keep your playroom and home in order, head over to The Laundress for even more inspiration. And don't forget to check out their eco-friendly laundry and cleaning products while you're at it — you won't be sorry!

This post was created in partnership with The Laundress. For more information, please read our disclosure agreement.
---
For more inspiration, check out: