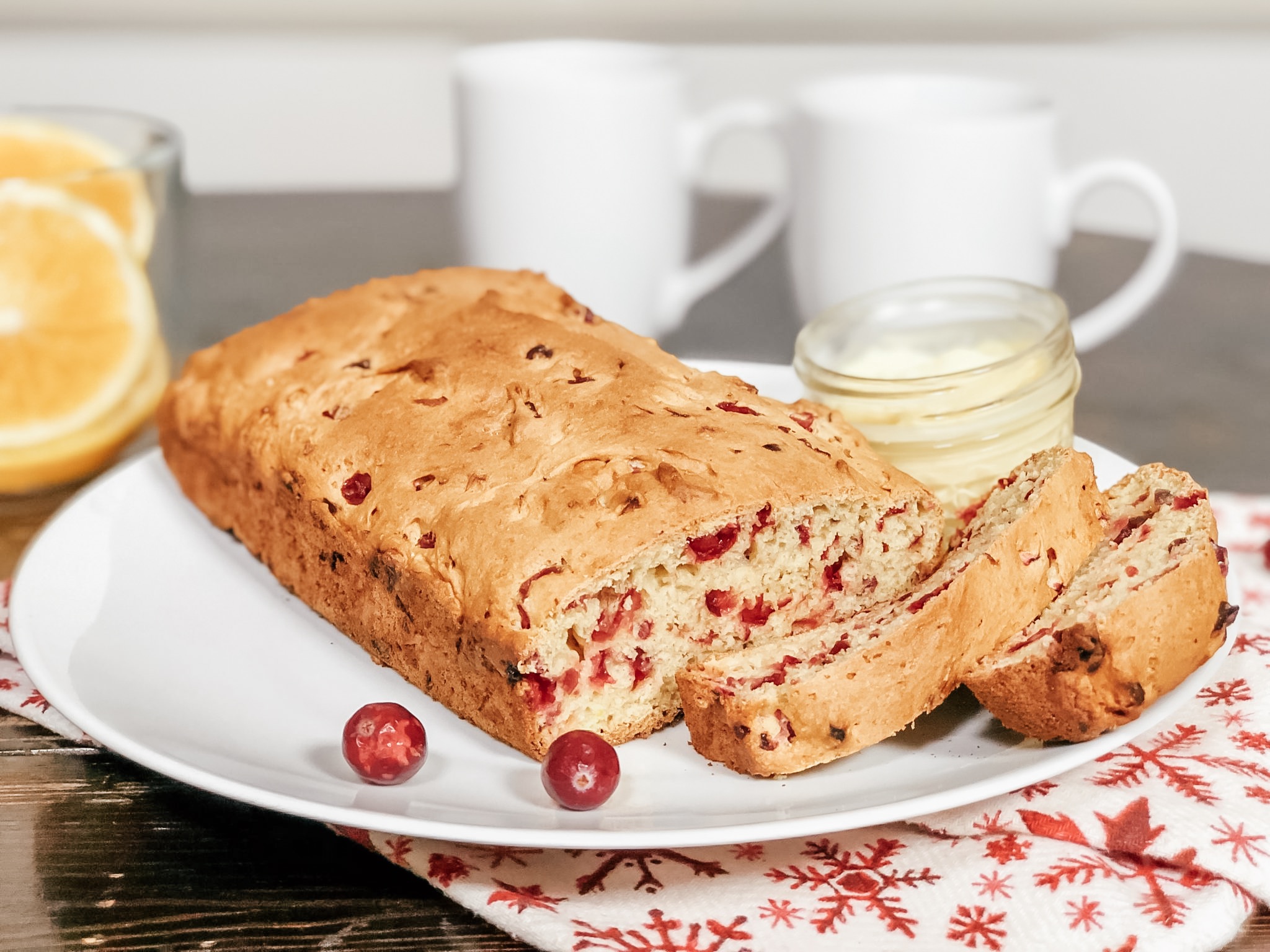 It would not be Thanksgiving at my house without Cranberry Bread.  It's a long-standing tradition.
My mom initially taught me this bake, but the recipe originated from my Aunt Lisa, and I've been making it for as long as I can remember. (Literally, I can't remember NOT making this.)
So every year, I break out this recipe, bake a little cranberry bread — actually, a lot. I bake A LOT of cranberry bread… and I then watch it immediately disappear from our house!
And I'm really not kidding about that "a lot." This bread graces our table most weekends during the holiday season. And even though I double the recipe, the fresh-baked loaves usually only last about one day. Thank you, Aunt Lisa!
This is a great recipe to bake with kiddos because it's quick and easy and requires some simple tasks that they can complete. If you have a large group of people coming to your table for Thanksgiving or if you're looking for an item to bring to someone else's table, look no further! If you like to prepare in advance and/or if you have some extra freezer space that you're looking to fill with deliciousness, this recipe freezes beautifully and is a perfect item for seasonal back stock.
Without further ado, I present my lovely Aunt Lisa's Cranberry Bread, just in time for Thanksgiving: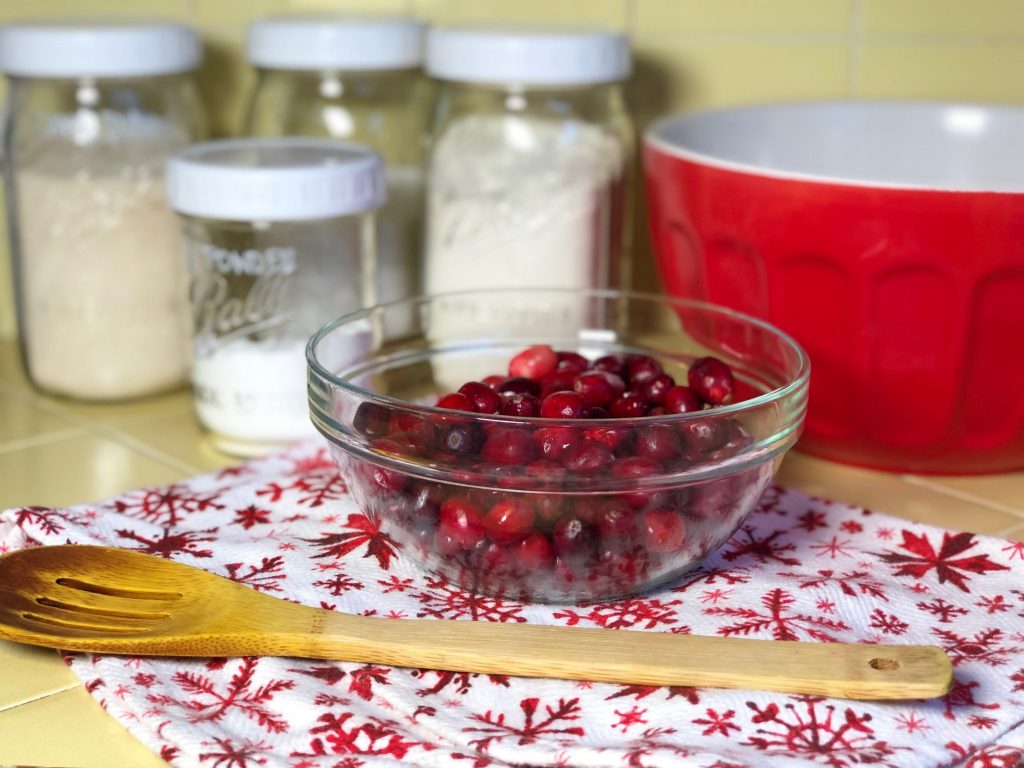 Aunt Lisa's Cranberry Bread 
INGREDIENTS:
2 cups sifted, all purpose flour
1 cup sugar
1 1/2 tsp baking powder
1/2 tsp baking soda
1 tsp salt
2 cups washed cranberries halved. I like to take it easy on myself and use a food processor to coarsely chop them — and as a bonus, it also makes the bread more moist!
Zest from one orange
Juice from one orange
¾ cup of water

Combine the zest, juice and water to create 3/4 cup liquid Again – I keep this simple and just measure ¾ cup orange juice and then zest the orange into the orange juice.

1 beaten egg
½ cup nuts (optional)
This recipe makes one loaf but can be easily doubled… and I almost always do!
DIRECTIONS:
1. Combine all dry ingredients (flour, sugar, baking powder, baking soda, and salt) in a large mixing bowl and mix well.

2. Stir cranberries and nuts (if using) into the dry mixture.
3. In a separate bowl, combine the orange juice, zest, and egg. Mix well.
4. Slowly add the wet ingredients into the dry.
5. Mix thoroughly, but be careful not to over mix.
6. Lightly grease a 9″ x 5″ loaf pan.
7. Fill loaf pan with mixture, ensuring it's evenly spread.
8. Bake at 350 for one hour, but check loaf at 45 mins, as it could bake more quickly.
9. Let it cool for 5-10 minutes in the loaf pan before removing.
10. ENJOY!!
From my home to yours, HAPPY THANKSGIVING!
XOXO
Kitt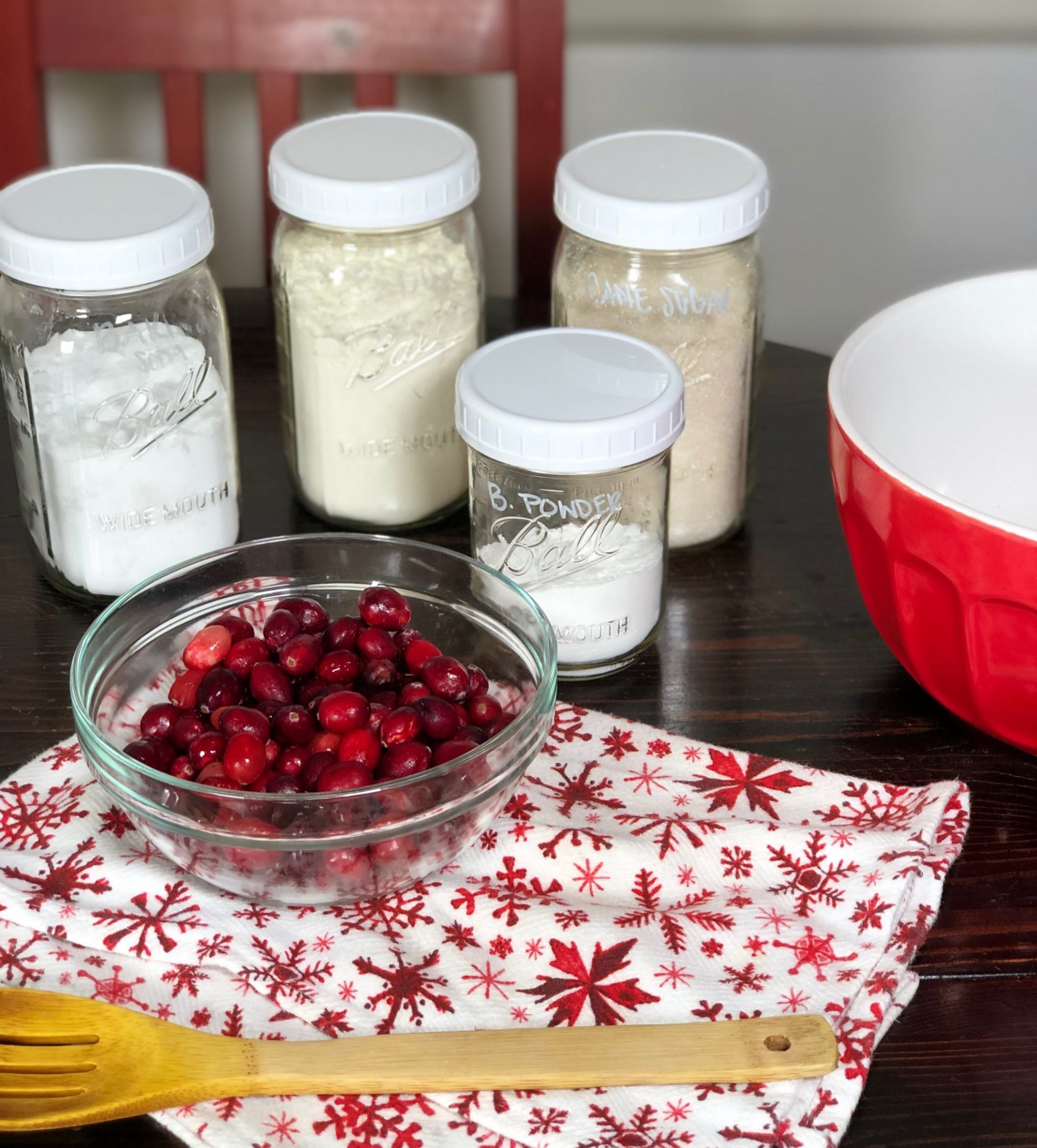 ---
For more inspiration, check out: