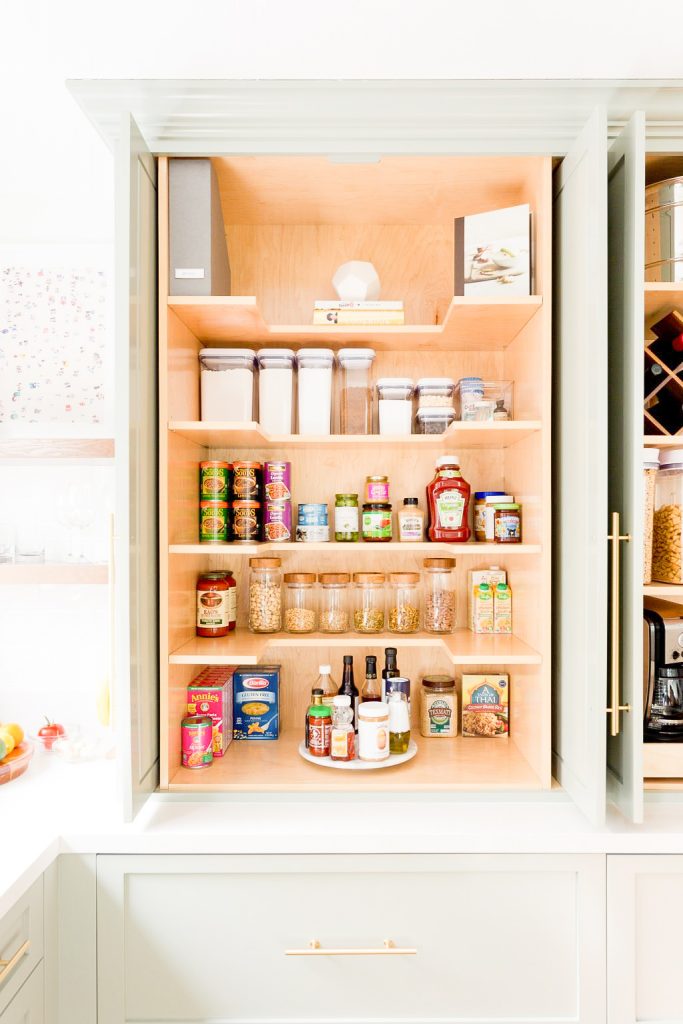 We know this is a big statement, but spin trays (also commonly called turntables or lazy susans) are seriously space-changers. And as professional organizers, we believe that organizing your spaces can truly be life-changing… so hopefully you can at least understand, if not appreciate, our claim?
How many times have you found long-forgotten belongings hidden in those back corners of your cabinet? How often have items tumbled down as you've tried to access that jar behind the other jar on the very top shelf of your cabinet?
No longer.
We're here to shout from the rooftops why we love spin trays and what our favorite places are to implement them… and if you want even MORE spin tray love + inspo, check out our video below:
Please note: some links in this post may contain affiliates. For more information, please read our disclosure agreement.
1. ACCESSIBILITY
High shelves can be such a challenge — all that unused, unreachable space! We've seen those empty spaces numerous times in our clients' homes. And if there do happen to be any items living up there, they're often quickly forgotten about.
If something is inconvenient to access, we're far less likely to use it and even remember that we have it. With spin trays, accessibility is created!
2. VISIBILITY
Remember the old adage: "out of sight, out of mind?" This is so very applicable to organizational systems because WE USE WHAT WE SEE.
Even when a shelf or cabinet is at a great height for reachability, there can still exist barriers to seeing items (think jars behind jars, bottles behind bottles, meds behind meds…) And in that case, we may have a harder time remembering that we have them.
The turntable wins here as well. With one light spin, you can see all of your stuff!
3. USABLE CORNER SPACE
Sometimes corners become overstuffed space — or dead space. And because we really believe that ALL of the spaces in your home should be PRACTICALLY utilized and PERFECTLY systemized, we're huge fans of spin trays for corners, too.
If you have especially deep shelves, the larger-sized spin trays can be totally transformative!
4. FUN
In all honesty, spin trays are just fun. They're an easy way to contain and systemize. And the mystery remains for us as to why anyone would ever call them "lazy!"
And now, for some of our favorite places to implement them… which really could just be "EVERYWHERE."
PANTRY
Spin trays are ideal for any can or jar storage. We just popped them into our latest pantry makeover project, and they made a world of difference for our clients in terms of being able to see and access their dry and canned goods.
They are also especially great for creating zones. Baking, breakfast, snacks, teas — if you can dream it, you can spin it!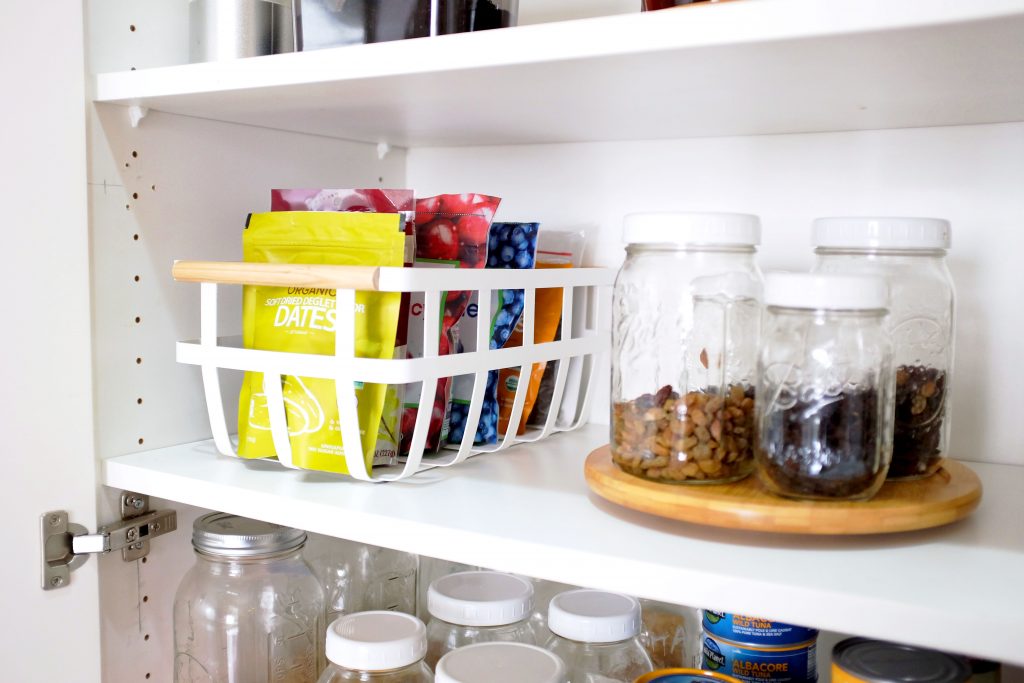 UNDER THE SINK
This tiny space can easily become overwhelmed with disorganization, which is why so many folks end up with four bottles of detergent or twenty sponges. "I'm not sure if we have any… I'll just grab some more to be safe."
So again, visibility and accessibility are hugely impactful here!
Practically Perfect Tip = This is an area where we love to install easily-washable acrylic + divided turntables.
MEDICINE CABINET
A spin tray is the PERFECT product to use in any home's first aid zone. Utilizing a spin try is such an easy way to compile all of the necessities for any "oh no" moments.
Divided spin trays are a great place for compiling all the miscellany for minor emergencies: bandaids, ointment, gauze, thermometer, allergy meds and more.
When you need these kinds of items, you need them right away — so being able to see and find what you need is never more important!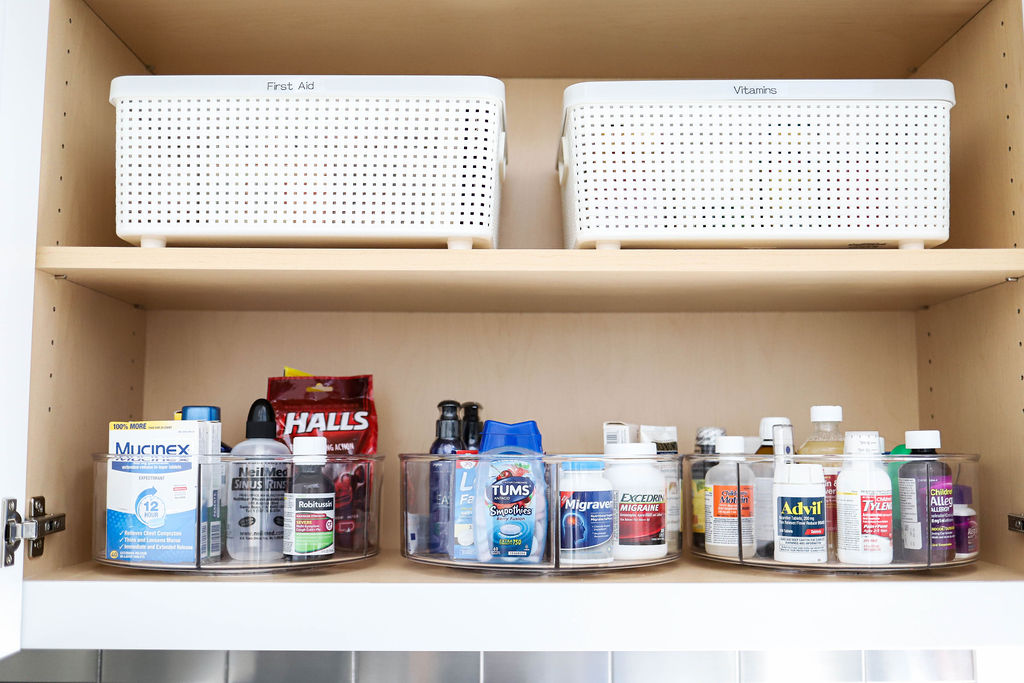 FRIDGE
Both Joni + Kitt have several spin trays in their own refrigerators. They store sauces, jarred goods, yogurt and more.
Say goodbye to expired condiments that have been lost in the back of the shelves or forgotten about on the door. All things saucy can live on a spin tray, where everyone can see + enjoy them!
And now our tribute to spin trays has come to an end, although we could go on and on…
If you're hungry for more inspiration, check out our latest "Small Space Transformation" to see how we used spin trays to seriously up-level the organizational game in our clients' pantry cabinets.
So, where do you use spin trays in your home?
P.S. Check out a few of our favorites below!
For more inspiration, check out: