As we all face the ever-changing challenges of COVID-19 — and as our families' school and work settings have changed drastically — many of us are struggling to regain a sense of normalcy.

Our desire to read news incessantly and binge-watch TV is strong (and so, too, is our desire to eat popcorn and chocolate for dinner in our pajamas). And while there's nothing wrong with a little break from the regular world, our children are still craving structure and routine, especially as their daily lives have shifted so dramatically.

Any parent who has been stuck at home with their kids on a rainy day can attest that kids need SOMETHING TO DO!

As of now, most schools are canceled for at least two weeks, and social outings are strongly discouraged… which means that many of us have just become full-time homeschooling parents with very limited field trip options!

If you have multiple children of different ages, stacks of classwork and packets and online meetings AND adult work that all need to be attended to… it may feel very overwhelming. It certainly does for me.

So today I'm sharing my family's new daily schedule. I created it last weekend, customized specifically for our family's needs and dynamics.

Remember, this is not a one-size-fits-all-families schedule! Each of our kids have different needs and rhythms. Consider this a guideline, and modify as necessary.

I've sprinkled in some tips to help you consider how to best curate your own family's schedule.

Weiss Academy

7:30 am – EARLY RISERS

Make Bed + Tidy Rooms
Free Choice Activities (I have a list of items at the end that my kids can choose from.)
No Screens (For our family, it has been important for ALL OF US to subscribe to no screens in the morning. There will be time later on, but this is a great way for us to start the day together.)
8:00 am – BREAKFAST + DISCUSSION

Breakfast + Get Ready (Some days will be pajama days… but just like when I work from home, there can be something nice — and in this climate, perhaps reassuring — about putting on clothes.)
Discussion Of The Day (This is a time to set expectations and brainstorm ideas.)
8:30 am – READING + WRITING

Assignments From School
Free Time
Reading + Journaling (Journaling feels especially important right now, both for us and our kids to understand how we're feeling.)
9:30 am – NUTRITION

Snack
Family Walk (Including our family dog, Tova!)
10:00 am – MATH

Assignments From School
Kahn Academy (This is a great free online resource site where your kids can practice different subjects by topic or grade.)
11:00 am – PE/HEALTH

Family Health Activity (This could be family yoga, jogging, bike riding, team sports… anything that everyone can participate in!)
11:30 am – EXTRACURRICULARS
Curriculum From Parents OR Child (This is a great time to explore anything from family history and foreign languages to music or dancing. If it feels taxing to create your own curriculum, consider child-led learning. Maybe your kiddo is fascinated by volcanoes or wants to study insects. This time is all about making learning as fun and enjoyable as possible.)
12:00 pm – LUNCH BREAK

Lunch
Outdoor Play (Weather-Permitting)
Free Choice Activities
1:30 pm – SCIENCE + SOCIAL STUDIES

Assignments From School
Daily News, Baking, Field Trips Around Neighborhood (It's important for OUR KIDS to know what's going on, so reading and discussing the news is a "yes" in our house… but of course, we recommend doing what's best for YOUR KIDS.)
3:00 pm – NUTRITION

Snack
Family Walk (You'll notice we have several outdoor activities per day. We're lucky to have Southern California's mellow weather; and even when it's raining, we'll grab boots and coats and make it outside for a bit. Our kids are less restless — and we're all happier — when they've spent some time outside.)
3:30 pm – MUSIC + READING

Piano Practice (This could also be a time to listen to or study different types of music).
Family Reading Time
FREE CHOICE ACTIVITIES:

Practice Piano
Play Outside
Dance
Read A Book
Write In Your Journal
Write A Letter
Do An Art Project
Work On A Puzzle
Create With LEGO/Magnatiles
Clean + Organize The House
Typing Club, With Permission
So, that's what our days are going to look like, for the most part. Of course, life is unpredictable and we'll certainly have days that look nothing like this. But for our family, it's been helpful and comforting to be able to plan ahead and know what to expect.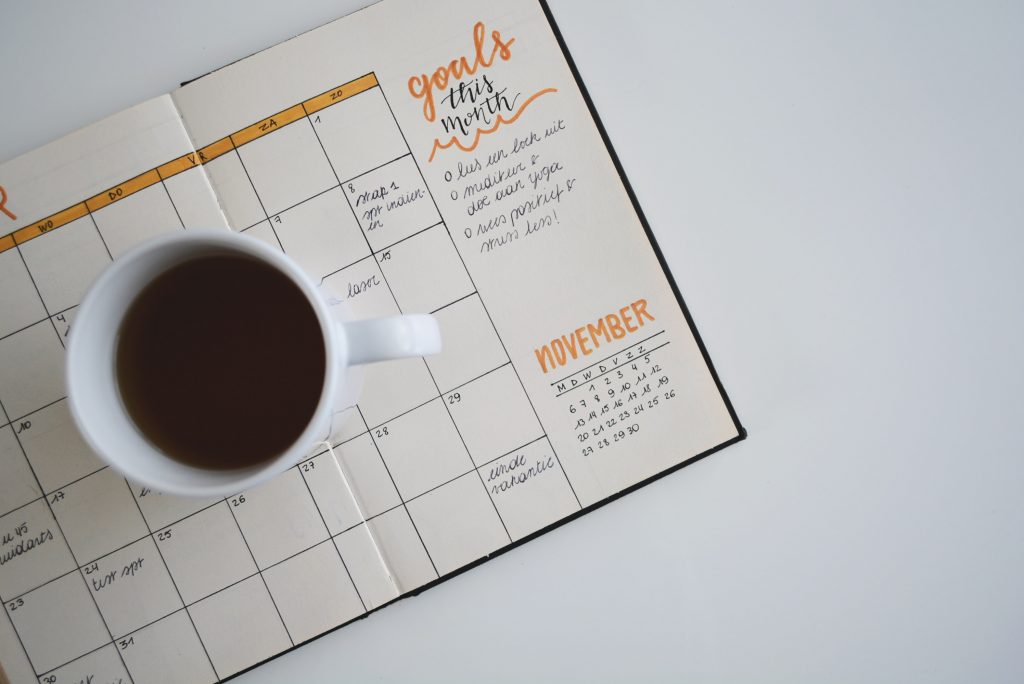 Photo by Estée Janssens on Unsplash
A few tips for any fellow temporary homeschool parents, plus a lot of good luck:

Think about the ages + stages of your kids as you create family's schedule. Also consider that each child might have a slightly different schedule, based on their learning style and needs. Go with your gut.
Remember that snacks and play are important. Schedule time for both and have a clear ending time. Offer 5 and 10 minute warnings so they can prepare themselves for the transition back to school work.
Consider rest periods. Perhaps your kiddos have more success with music or meditation time to help them transition and focus.
Involve your kids in the planning. Children are more apt to participate in activities that they've helped plan. Allow for some flexibility in terms of where and what order they complete work.
Designate different parts of the home for different activities. It's a struggle for anyone to sit in the same place all day, and it doesn't feel great for our bodies. Math might be great at the table, while reading can happen on the sofa. One snack might be inside, while another is outside.
Be gentle — with them AND with yourself. Don't aim for perfection. Just do what is doable. This is a time to stay calm, close and connected.
I hope that you've found this schedule to be helpful. I've included a few great resources below, as well.

Good luck to you, please let us know how you are doing, and don't be shy about sharing any tips that you've found helpful in your own home!

XOXO
Joni
P.S. Some additional resources:
Flip Grid (for virtual playdates)
Steve Spangler Science (experiments you can do at home)
Colorations (educational craft ideas)
Smithsonian (free virtual tour)
Cover image by Ben Wicks on Unsplash
---

For more inspiration, check out: