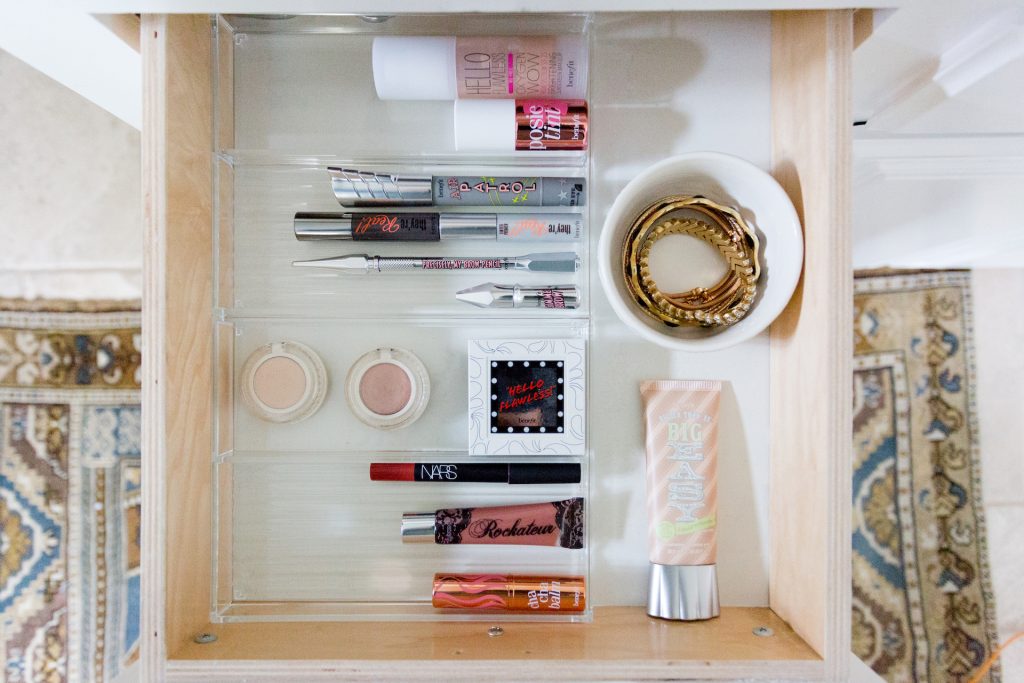 Bathrooms can be challenging spaces to organize, or to even consider organizing. 
We want to help you RETHINK the way you look at your bathroom and hopefully inspire you to tackle any of the areas in it that need some reconsidering.
To watch us perform a full bathroom transformation, watch below!
Please note: some links in this post may contain affiliates. For more information, please read our disclosure agreement.
REASONS WE NEGLECT OUR BATHROOMS
The Cabinets + Drawers Are Overstuffed
We know how easy it can be to collect items for your hair, skin, beauty, bathing… the list goes on. Even looking at all of those collections can make the thought of diving into them just unbearable.
Some Areas Are Just Awkward
Tiny drawers, shallow shelves, under-the-sink in general… they can all make maintaining a tidy bathroom space a big challenge.
There's Not Enough Storage Space
Oh yes… we've seen this in our own homes, our friends' homes and in our clients' homes — from the bathroom to the bedroom to every room, storage is a big need.
In order to combat these three challenges, we encourage you to start thinking about creating ZONES. We use this rule all over the house, and the bathroom is no different!
HOW TO CREATE ZONES + CATEGORIES
A ZONE is the area of where items will be stored — and CATEGORIES are the types of items you'll store in the zones, i.e. a "Beauty Zone" might be a bathroom cabinet that contains your skincare, makeup and hair care items.
Start first by considering your morning and evening routines in the bathroom and what you generally want and need to have accessible. Whatever you use most often should be stored in the most prime real estate, meaning the areas that are most ACCESSIBLE + VISIBLE.
Then, group these items by category. For instance, if you have beauty products in 5 different parts of your bathroom, consider storing them all together.
When you choose your storage zones (these can be drawers, cabinets, shelves), start thinking about your daily flow. Do you like to brush your teeth first or last? Are you willing to open cabinets to retrieve items, or do you prefer them right on the countertop where you can see + quickly grab them?
Also think about why you're NOT using certain areas. Is your drawer too shallow for the items you want to store there? Is your cabinet so deep that the items you're storing there are lost or forgotten?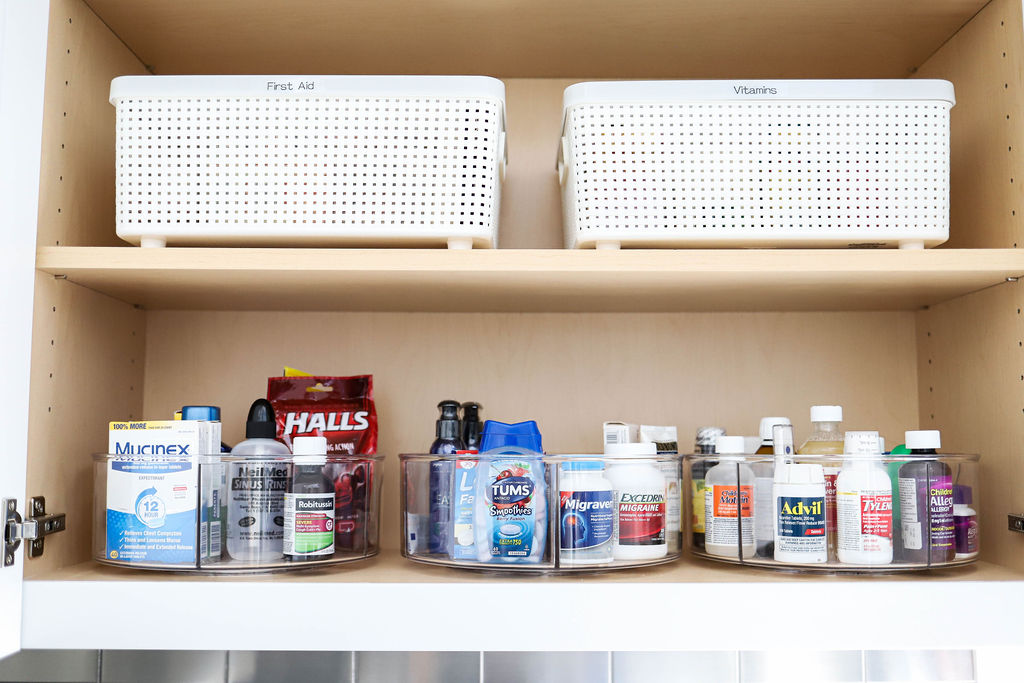 (This is where we, as organizers, start thinking about products that might make that space more useful…)
FINDING THE RIGHT PRODUCTS FOR YOUR ZONES
We'll never stop reminding you that you can always use and repurpose whatever you already have in your space. With that said, we also know that the PERFECT organizational products can make a world of difference in utilizing a space more efficiently.
If you do decide to uplevel your space by adding new organizing products, make sure you really think about what really be PRACTICAL and impactful.
Does opening lids sound daunting? If so, consider lidless solutions.
Do tend to lose items in a deep cabinets? Consider a spin tray (one of our favorite products in any bathroom) to keep items visible + accessible.
Below are a few of our favorite bathroom organizing products and some of the ways we like to use them.
If your bathroom feels overwhelming, remember… just take it one zone at a time!
Happy Organizing!
Cover image by Amy Bartlam for Practically Perfect
---
If you like this blog, check out the following for more inspiration: