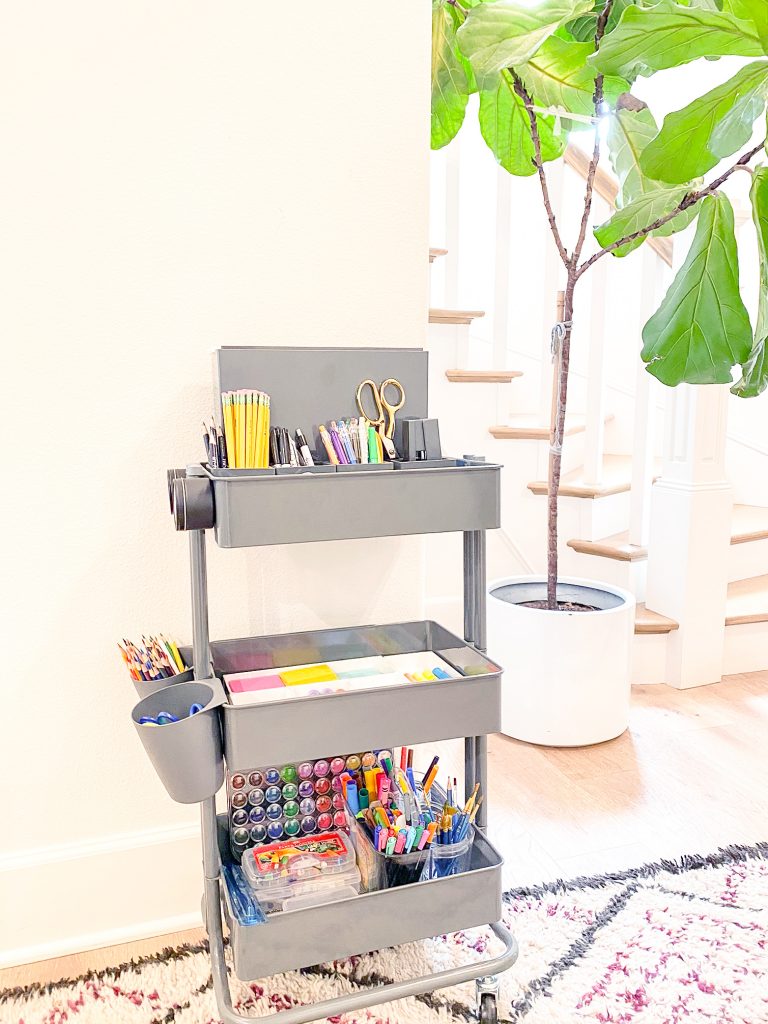 Today, we're getting into some homeschool reorganization — and we're excited to share the full project with you! We also encourage you to scroll to the bottom and snag ALL THE RESOURCES from our friends in the organizing community around parenting and back-to-school. They are amazing transformations and tips that are SO necessary right now!
In addition to the general chaos that comes with homeschooling during quarantine, my family has been specifically struggling with SPACE, as it relates to schooling and working from home.
All three of my kids are still at an age where they need a lot of supervision and hands-on help during homeschool hours, and the only place in our home that can accommodate all of us is the dining room table. Fortunately, our table is large enough to allow us to spread out and still sit together… plus it's close to the kitchen, which is a major bonus since snacks are a MUST HAVE right now, for all of us!
But obviously, a dining room/kitchen is not the most ideal space for school and work. This is what a typical morning looks like: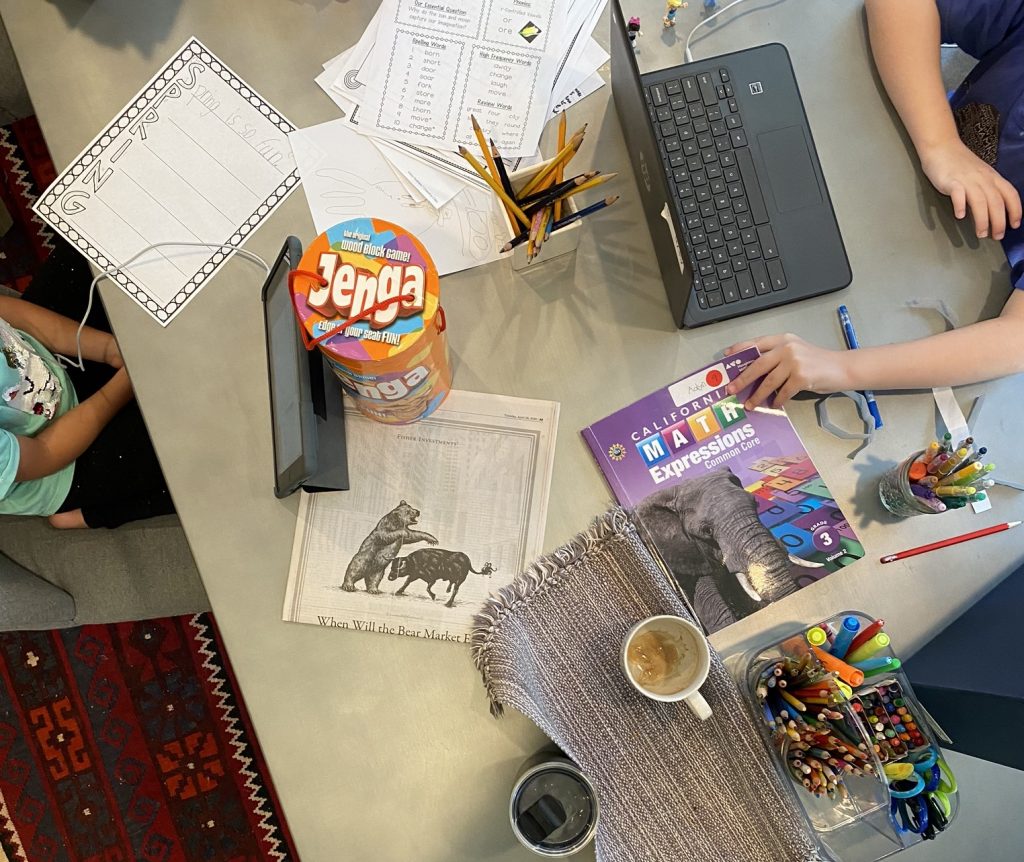 We owned one mobile storage cart that I repurposed at the beginning of our Safer At Home order to help us navigate in the interim.  But over time, it's become a bit of a mess (my kiddos fall on the messier end of the organizing spectrum).  And now that we know we're home until at least the end of summer break, this single cart was simply not going to accommodate all of our supplies.  
Plus, we needed a space for our school tech needs since we're often navigating multiple online classroom meetings at the same time, which means that a lost or uncharged computer can cause a major setback (read: meltdown).
With the help of our generous friends from The Container Store, I decided to do an overhaul of our homeschool space to create something that would work better for us AND could be used throughout the year.  The latter was especially important, because I wanted a solution that could be easily modified into something that we'll continue to use from for? homework and at-home art projects, even after regular schooling resumes.  So thank you to TCS for making this dream a reality!
This post was created in partnership with The Container Store and may contain affiliate links. For more information, please read our disclosure agreement.
THE PLAN
I decided that instead of starting from scratch, I would keep the cart I had and add another. One would be our supply station, and the other would be our tech hub.
Our supply cart would need to contain everything — and I mean EVERYTHING — that we would need throughout the school day. Paper, pens, markers, Post-its, highlighters and more. No more dashing out of the room to hunt for supplies (and then losing time because somebody got distracted on the way!)
It also needed designated storage for all of the necessary items so that nothing would be tossed in haphazardly. Or at least, if it was tossed in haphazardly, it would be clear where something was supposed to go. Everything needed to have a home in the cart. Because as we all know, THIS is key to staying organized!
Our second cart would be tech central. This cart would not only need to contain all our technology (iPads, computers, headphones, cables) — it would also make all of these items accessible and easy to charge. We wanted our kids to be able to grab what they need, replace items when they are done AND be responsible for keeping their items plugged in when they are not in use.
I spent a little time scouring the The Container Store's online store, created a quick design of what I wanted and came up with the supply list below:
THE TOOLS:
Remember, you can always repurpose items from around your home before purchasing any products to add to your space! I did that initially, which helped me realize what our needs were and what we would need to procure into order to meet them.
And here is our transformation!
THE AFTER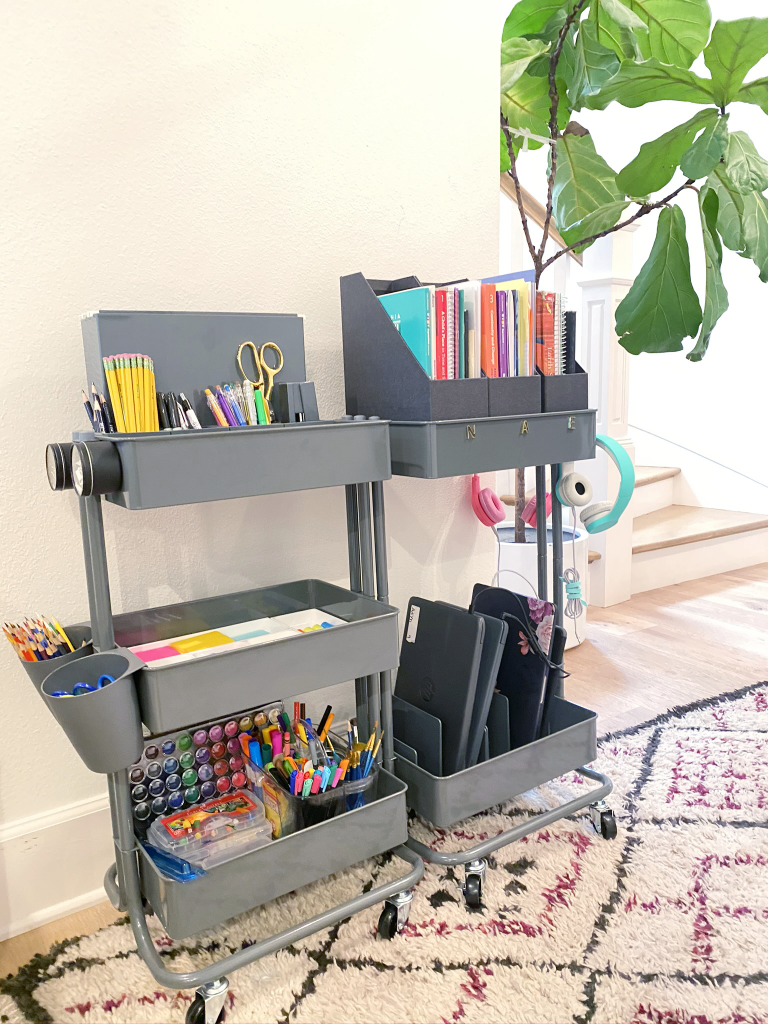 I broke my school supply station (mobile cart) into three zones (baskets).  ZONES are a favorite concept at Practically Perfect!  
The top basket has our everyday essentials – pencils, pens, scissors, paper, etc. My goal was for the most often used items to get the prime location (AKA the spot with the best visibility and accessibility!) I used a hanging file organizer to separate out our scratch paper from craft paper and matching pencil cups to contain all of our writing instruments.
The second basket has additional essentials. But as you can see, they are items that could easily lay flat. That's because this space is a bit more difficult to access and I wanted to make it very easy for my kids to grab what they need without knocking anything over. All of these are stored in drawer organizing inserts, which are perfect for holding smaller items or collections.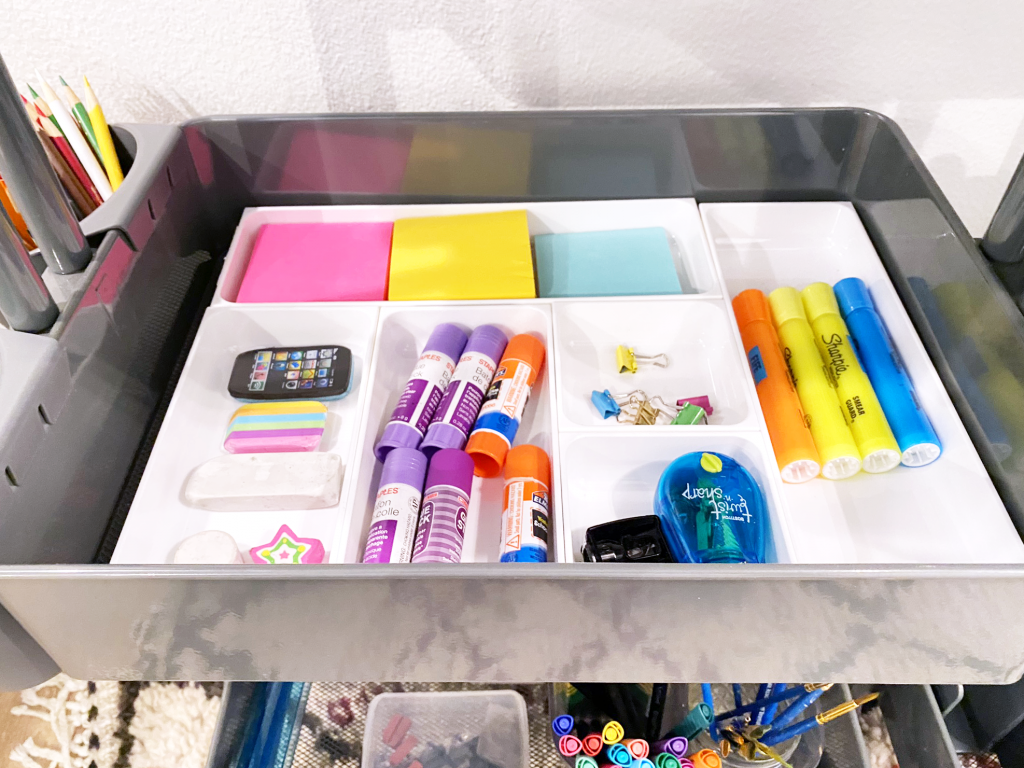 The last basket stores arts and crafts supplies and some extra items.  Because this section has a variety of items (markers, crayons, paintbrushes) I opted for a craft caddy rather than a lot of individual containers or jars so that the entire collection could be taken out and used at once for maximum creative potential! 
I also added a few magnetic tins and storage cups to the side of the cart, which even further expanded the storage space and also made a few other essentials easy to grab.
In terms of categorizing, the options are really endless. I used more general categories, as all of our school supplies are shared among our kiddos. But you could designate one basket per child or break them down by age group, by class, by need… This cart really allows for such great customization potential!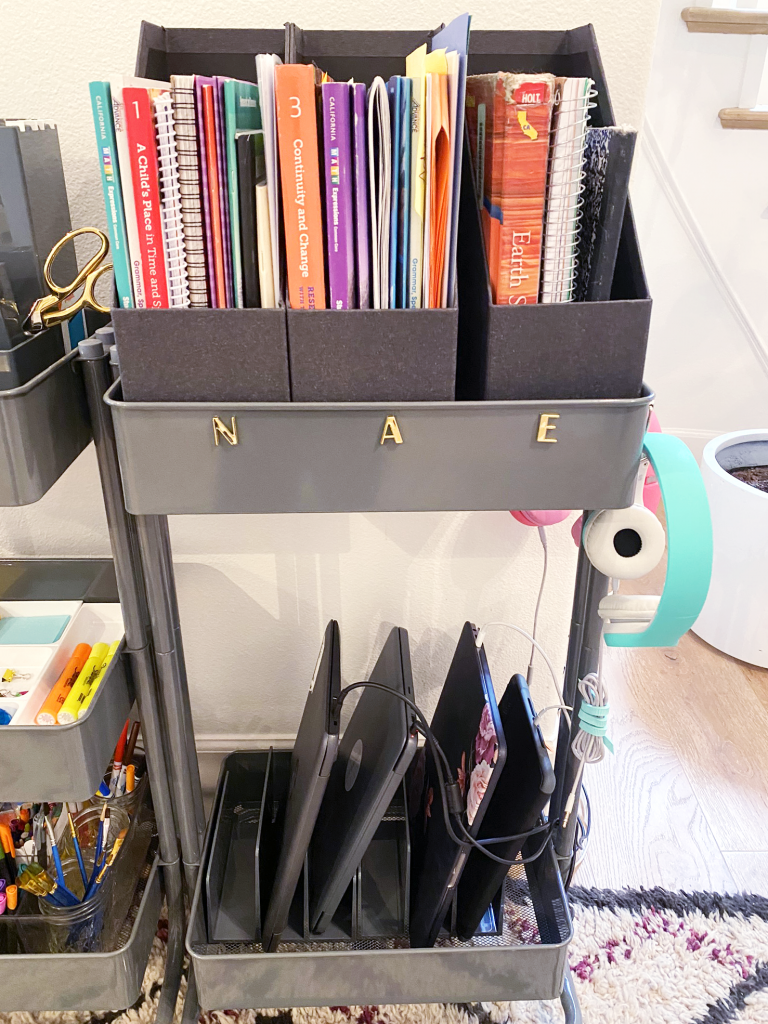 My tech cart is a bit of a hybrid, which works perfectly for us.  The top zone has all the kids' workbooks and notebooks, which I organized into individual magazine holders and labeled with magnetic letters.  I prefer the ease of having them open for the kids to reach into.  But if you want less visual clutter, you could flip the boxes around for a cleaner look.
The bottom basket holds all of our computers in a file sorter, so that nothing is stacked and the charging ports are facing up. You'll notice that I didn't add the middle basket of this cart upon assembly, in order to create space for the computers to be sorted, rather than stacked.
I used magnetic hooks on the side to store our headphones, so that I wouldn't lose any precious storage space. And I color-coordinated using cable ties — because who wants to spend their time at home feeling frustrated by a knot of headphone cords?!
Finally, I added a charging station that ALL of the devices could be plugged into so there's no competing for charging space or cables. This little friend can follow the cart around and be plugged into the nearest outlet to keep everything fully charged.
So, there you have it!
If you're needing to create a homeschool station (or any WFH area) but are low on space, we TRULY recommend a rolling cart. The mobility and accessibility has been great for us. Not only do I have them in my house — Joni is using one for her kids right now, too (she pulled it out of her family's playroom and into the kitchen, which is where all of the action happens for them these days, too!) We even use one of these carts in our Practically Perfect office (oh, how we miss our office!)
If you want to recreate the look of mine, check out the gallery below!
To recap, here are few QUICK TIPS for anyone who is seeking to reorganize their homeschool space:
Think about the items you want or need to be the most accessible and place those in the prime real estate spots (i.e. the easiest-to-reach places)
Consider caddies or organized boxes for younger kiddos, as they can tend to dump out small containers (we speak from experience!)
Use labeling as needed! Sometimes kids (and even adults!) are more likely to put things back where they belong when there's a written reminder of each item's home.
Think long-term if you can… How else can you use carts or storage pieces when homeschooling or WFH ends? Arts + crafts, gift wrap supplies, a mobile bookshelf… consider some fun plans for the future!
And finally, please check out the AMAZING resources for homeschool/remote learning created by our incredible friends:
Back to School (The At-Home Edition!) Blog Hop
TUESDAY
WEDNESDAY
THURSDAY