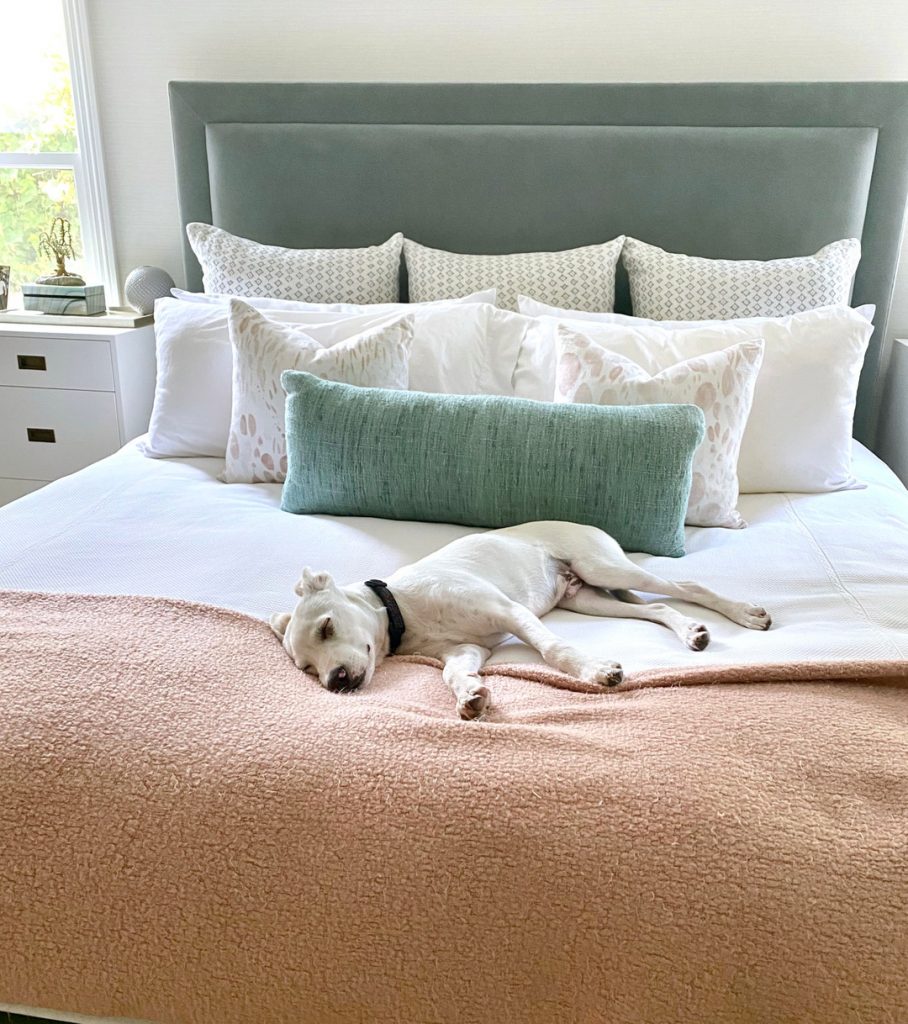 Our Practically Perfect pup Suny, snoozing the day away.
Our homes and the homes of our team members are full of pets! In the last year alone, the number of Practically Perfect furry friends has doubled… which means there are EVEN MORE items that need to be organized.
Having a proper storage solution for pet supplies is often overlooked. (If you're thinking that you barely have time to organize your own items, much less your pets', we hear you!) But having a system to keep all your pets' needs tidy and organized means that your household is likely to run much more smoothly. And who doesn't want an extra five minutes in their day, or an easier way to get out the door?
We're holding up our own hands over here!
So for you pet lovers out there, we've put together a list of our favorite pet organization items, along with some best practices on how and where you might use them.
Please note: some links in this post may contain affiliates. For more information, please read our disclosure agreement.
Back-Of-Door Storage Solutions
We like to start with a "zone" — which for us generally means a dedicated area for one category of items. In this case, it's pet supplies.
This area could be inside of a cabinet, a bank of drawers, on a pantry shelf or even the back of the door!
Whether your home has ample storage space or you need every inch you can get, back of the door storage racks are a win in our world. It's usually an overlooked and underutilized space but a fantastic way to take advantage and get creative with space.
(Remember — if you're low on storage space, always think vertically!)
One of our go-to products is the Elfa wall storage solution. It's a modular system that can be customized to fit your home. They're easy to mount onto the backs of doors or walls AND can simply be hung over the door as well, which makes for easy set-up and removal and is a huge benefit to any renters out there.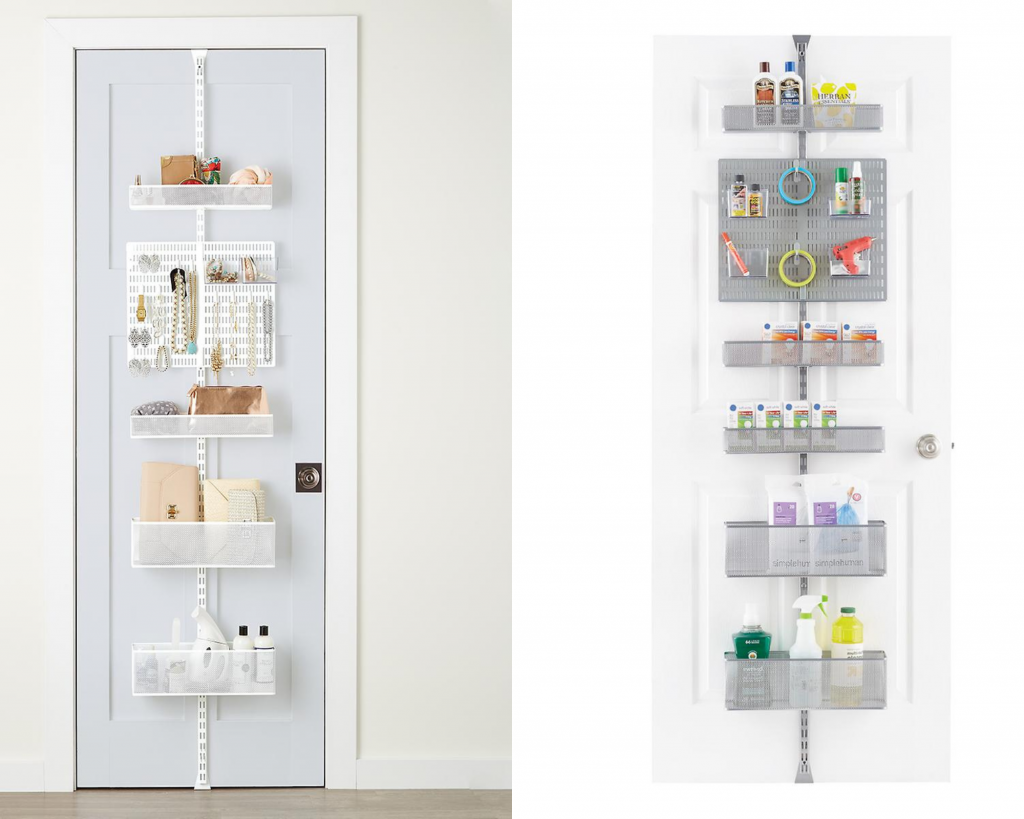 It can be outfitted with peg boards and/or hooks for hanging leashes and large baskets that are perfect for food storage. We highly recommend these systems for any and all of your pet needs.
For a slightly more budget-friendly alternative, we're also fans of both of the following systems. Although they aren't customizable, they're equally easy to add to your door and provide great storage:
Container Storage Solutions
Once you decide where your "Pet Supply" zone will be, we encourage you to get more specific within the zone.
We love using containers and baskets to create a more "micro" organizing solution — as Kitt calls it. This means dividing up the supplies into smaller categories and storing them separately within the zone. Think about creating groups such as "treats," "grooming," "travel" and so on.
We know that there is an overwhelming amount of choices when it comes to bins or baskets. For pets, we encourage you to think about whether you'll prefer something that's wipeable (we sure do), whether you'll want or need a lid, whether stackability is important… There are so many factors to consider in selecting the perfect container! Some of our favorites are below:
These small clear bins can work well on their own, within the Elfa system OR housed inside of a larger clear bin, creating some specific division.
Handled baskets (with labels) are great for cabinets and shelves to contain your pet items in a beautiful and functional way.
And we always love the Nordic basket. These look especially smart on pantry and laundry room shelves, which is where pet supplies live in our own houses.
Remember, this is all about making life easier! By using a bin or container for each group of items, you'll be able to easily see what you have and what you might need to restock. And we know there are some items — hello, potty bags! — that you never want to run out of.
Food Storage Solutions
This is an item that sometimes lives outside of the "Pet Zone" — because sometimes a 50 lb bag just doesn't fit inside of a cabinet! — and subsequently gets forgotten about when it comes to containment. Wherever you store your pet food, we encourage you to find a storage piece that keeps it both secure and accessible.
For dry kibble, we love food vaults, as we find them much easier to handle than large bags of food and far better for freshness.
We're also big proponents of wheeled containers, for both physical ease and convenience.
But if you're a die-hard fan for the original bag packaging, this KlipScoop is a great way to keep the bag closed, while also functioning as a scoop. We just love a good two-in-one product!
And we can't forget about portable containers. They're perfect for those of us who love to travel and be ultra prepared.
If your pup — or kitty — is a daily companion or needs a grab-and-go container at the ready for daycare, play dates or overnights, we love this stainless steel set. The Container Store also offers a more budget-friendly plastic version that works wonderfully, as well. Either way, your hungry pup thank you!
Pop these into your trunk storage cube, in the pet section of course, and you'll be all set. And if you don't have a trunk storage solution yet, let's talk.
Pet Favorite Solutions
Finally, we wanted to share just a few of our team's all-time favorite pet products to help enhance your pet-friendly days:
This ChomChom Roller is a game-changer for those days when you DON'T want to be covered in pet fur. It comes in both dog and cat editions.
Since we live in an extremely busy city, nighttime walks require a little more pet safety planning. These reflective collar clip-ons and leashes both felt like an easy addition to our collections.
And for some color-coded fun when it comes to pet cleaning and messes, these are the go-to scrubbers. Designate one color for pet bowls and one for humans, or just keep a small backstock of pet sponges for when you need them.
As always, no matter what items or space you're organizing, remember that every home and system is unique. It's important to assess your own needs and inventory and to take measurements before purchasing anything, to ensure that you create a Practically Perfect solution for your spaces.
Happy Pet Organizing, Friends!
---
If you like this blog, check out the following for more inspiration: