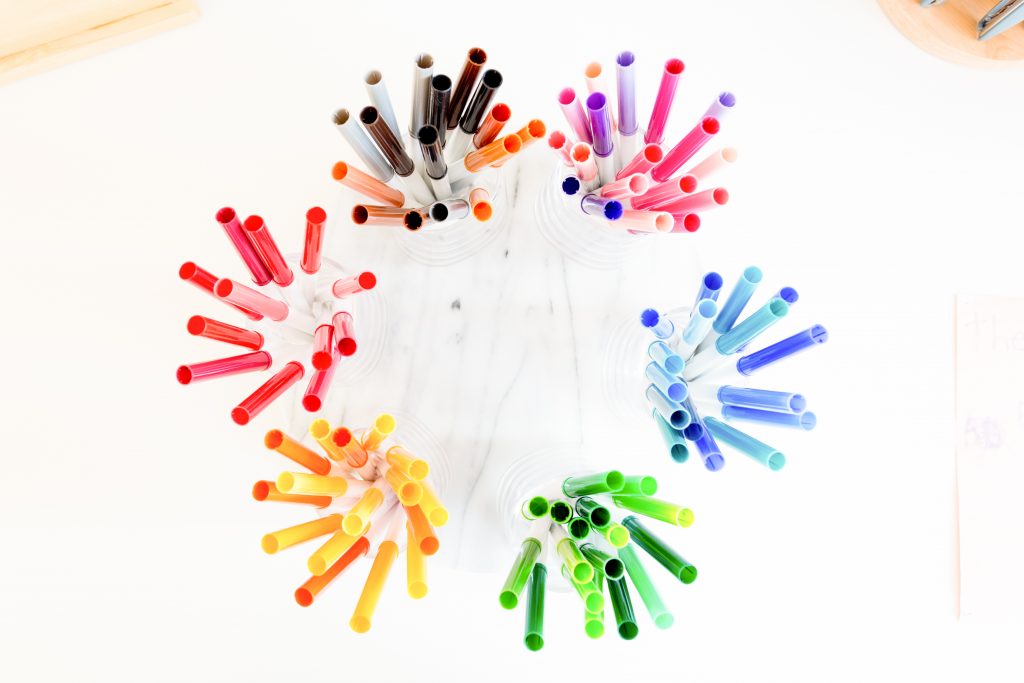 As we prepare to enter the 2021/2022 school year — wondering how this past year has simultaneously flown by and dragged on — we're keenly aware that this semester is going to look quite different from previous ones.
Of course we're both planners, which means we've REALLY had to adjust our expectations and the way we operate… as we're sure you all have too!
We're sharing a few things that we're doing differently during this back-to-school season in an effort to stay somewhat sane, along with some other things that will reliably stay the same:
THINGS TO DO DIFFERENTLY
Channel A "We Cannot Control Everything" Mentality
Type-A, anxious, tired, worried and grieving friends — we see you; we feel you. This past year has pushed us beyond what we all thought possible… and yet, here we are.
As organizing fanatics enthusiasts, relinquishing control is REALLY hard for us. We plan, we prepare, we make lists, we set schedules. We do not not know what is happening. But in this past year, we have really tried to learn to go with the flow. Accepting that we can't control what we can't control has been a very helpful mindset. (And we've definitely still had a few meltdowns, as have our kiddos.)
Trying to plan and prepare for everything can be exhausting — and life has a way of shifting without warning. So one of the things we're holding onto this year is an embrace of change, surprise and adaptation.
Prepare For The Possibility Of Intermittent At-Home Learning
If only we could go back to mid-March 2020 and whisper into the ears of our former selves: "This at-home learning is not going to be just two weeks — buckle up, Lady!"
This year, we're going to try and roll with it all. We're keeping our at-home learning systems, tablets and headphones at the ready, should we need to break them out.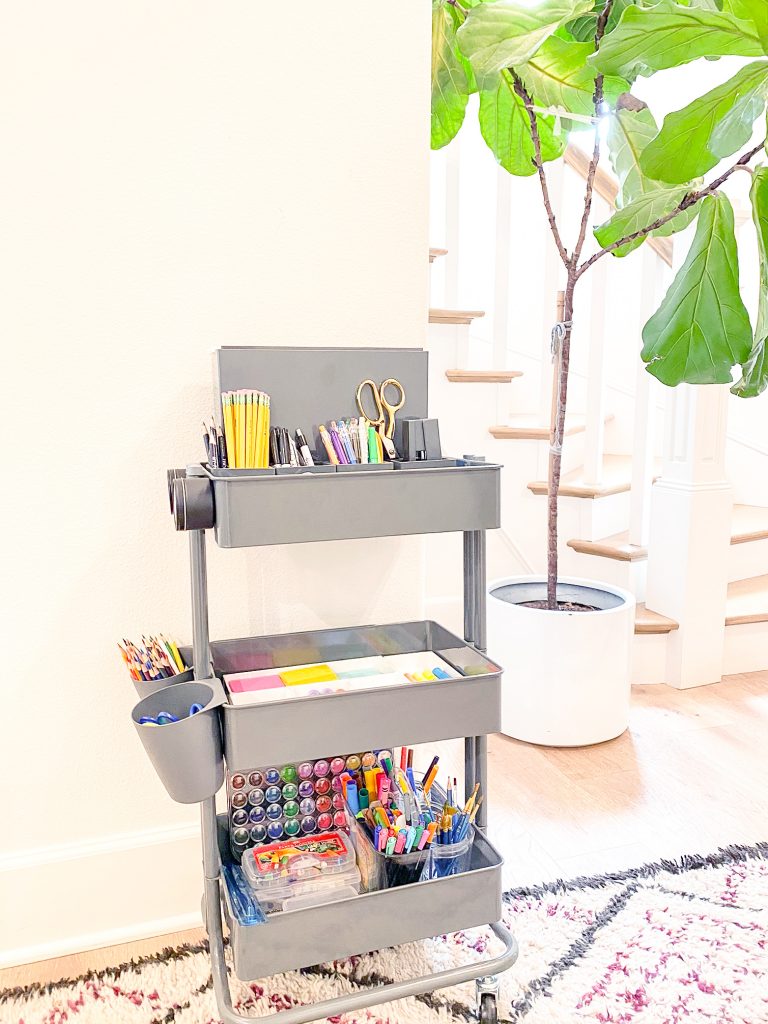 Photo by Practically Perfect
Create A Mask Storing/Washing System
Of course, both of our families have had these systems in place for quite some time — but with school back in session (in-person), we're going to need to up our washing game. We've been known to sometimes treat our reusable masks like that t-shirt you only wore once, for an hour or so — it's wearable again… just set it out or hang it up, and it's good to go!
As our kids are back with their peers and as masks are inevitably stuffed in backpacks, sneezed in, worn for 8+ hours… the game has changed again. We'll be creating a designated mask "drop zone" complete with a labeled "dirty" container so that the reusable masks can be swiftly dumped in the wash and swapped out.
Manage Our Own Expectations
This is partly for our kiddos and any expectations that we might put on them — because we know the adjustment of socializing, schoolwork and the multitude of other changes will not be easy. So we're channeling our inner Buddha and Mama Bear, reminding ourselves to give them patience, stability and support.
And partly, this is for us! Yes, we are excited to get some alone time, some household prep time, some work time. (We're not sure we've ever been this excited about working regular hours!)
But will it last? Maybe, maybe not.
Will we get everything accomplished that we aspire to? Probably not.
Will we be kind to ourselves when that happens? Absolutely. (We'll absolutely try).
We can't hold ourselves to the same standards we used to — and honestly, those old standards might not even have been healthy.
One good thing we've found in this past year has been the ability to slow down and just be a family. Suddenly, there were no school meetings, there was no soccer practice, there weren't three birthday parties in the same weekend. We were overwhelmed by the emptiness, then bored by it — and eventually, we learned to love it.
Part of this shift in expectations is going to be toward a slower, more deliberate life, whatever that might look like… and a whole lot of gratitude that we're all still here, safe and together.
Now, for our tried and true back-to-school tasks that always seem put us at ease:
THINGS WE LOVE AND ALWAYS DO
Create A Routine
As much as we can, for both ourselves and our families, we are going to set some routines back in place. This past year, bedtimes were pushed, alarms were a hilarious non-reality, screens and snacks were abundant and so on. We sort of all went into hibernation mode, which is really what we needed.
But as we try to find the new normal, routines really sound like a good idea — and hopefully they will feel good, too!
Obviously, this will look different for each of us, but it's something we've found has always been helpful for our families, especially when we transition into a new season. And as our kids get older, including them in what this can look like has been especially great.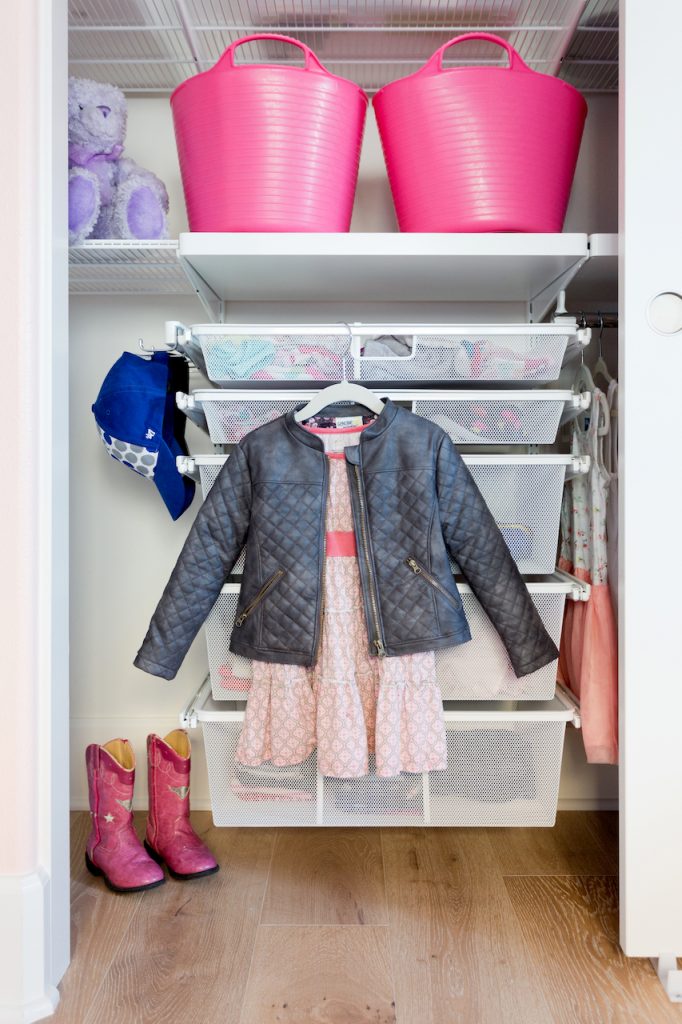 Photo by Amy Bartlam for Practically Perfect
Reset The Fridge + Pantry
This is one of the things that we LOVE to do every year (and as you know, even more often than that)!
A key element of the school year routine for both us and our kiddos is having dedicated zones for snacks and lunch, so that they can be empowered to pack themselves food and grab things when they come home WITHOUT needing to involve us. (How many other parents out there are ready for a break from being the shopper/maker/deliverer of all snacks?!)
To start (as we always do with food spaces), we'll be doing a deep clean of our fridges and pantries. This means removing anything expired, wiping everything down (Joni's favorite part), stocking up on healthy items and utilizing baskets, bins and spin trays to create easy access zones. For some step-by-step fridge inspo, click here!
Update Our Drop Zone
So much of our kids' STUFF (backpacks, sports bags and other school necessities) was relegated to closets and storage areas this past year. And shoes were generally a non-issue, because where were we even going?!
Our drop zones hovered somewhere between almost-bare and a full explosion of items, on the days we managed to get out. So these areas definitely need to get whipped back into shape — and they are absolutely on our list of must-update back-to-school spaces!
Backpacks and jackets will have dedicated hooks. Shoe baskets and shelves will be practically reconfigured. Schoolwork holders will get dusted off and popped into plain sight, so that nothing gets lost in the bottom of bags or forgotten.
And of course, our mask and sanitizer supplies will get a healthy resupply, as well.
---
Ultimately, between the new and unknown and the familiar and reassuring, we're hoping to take on this school year with as much of our patience, understanding and sanity as possible. And we're wishing the same for you — may all of your families be safe, healthy and happy this year!
Tell us below what you're doing differently or exactly the same this year, and check out our amazing friends who ALSO have great back to school tips!
Cover image by Amy Bartlam for Practically Perfect
The Organized Mama :: SKG Designs and Style :: Blue i Style :: Kate Decorates :: Global Mindful Journey
Small Stuff Counts :: Simple Joy with Ann :: The Modern Minimalist :: Practically Perfect :: The Tidy Dad
---