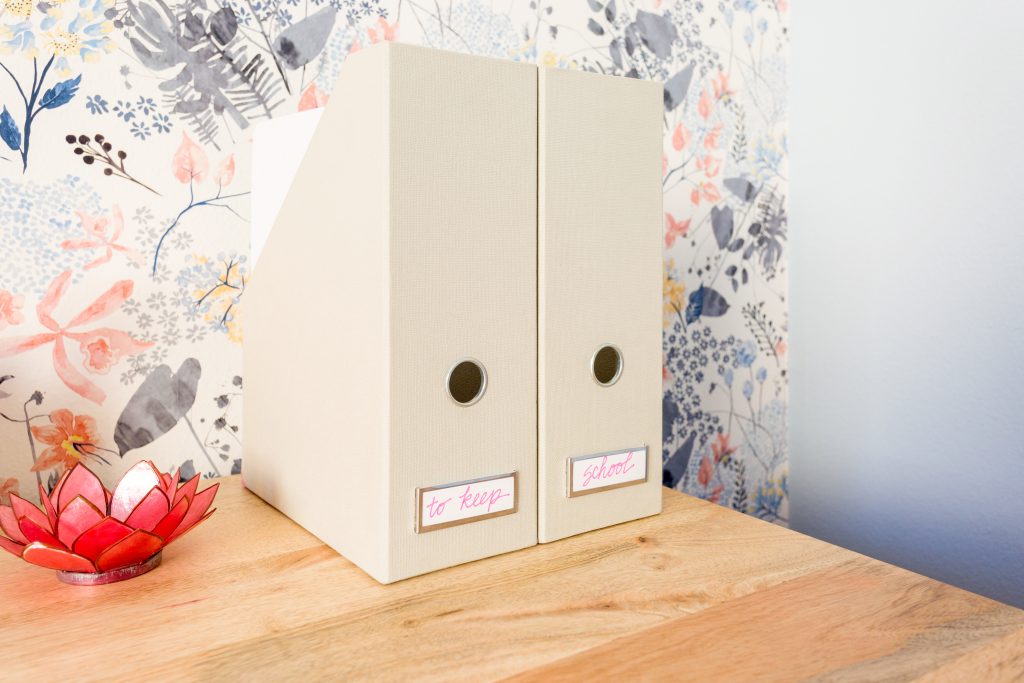 This back-to-school season, we have a few organizational tips for you (and reminders for us!) to make the post-summer transition even easier!
Designate A Command Center
This space in Kitt's home holds one of the most important organizational tools that she owns – a family calendar!
While we both have intricately color-coded digital calendars that we share with our spouses (and each other), it's really important for Kitt's kiddos to be able to see what's happening from day to day and week to week. Not only does this help them keep in mind each day's activities (read: sports practices galore), it also gives them the ability to practice their own time management skills.
Another important item in Kitt's Command Center is a system for incoming mail. Personally, we love a set of bins or magazine holders labeled "To Do", "To File" and "To Shred" – this way we can immediately sort incoming items and tackle each pile on a regular basis.
Generally, we recommend setting up a Command Center in a central area of the home, usually pretty close to the kitchen (because everyone is in the kitchen ALL THE TIME).
Each home has a spot that makes the most sense. Most importantly, it should be a space that all family members have easy access to.
---
Update Your Drop Zone
This area could easily be confused with the Command Center, but we believe that they serve very different purposes. While the Command Center functions as the central brain of a home, the Drop Zone is the area for all the items we walk in and out of the door with.
For our clients, we often designate Drop Zones in the entryway, mudroom or even in a nearby closet.
And while this is by no means an exhaustive list, here are a few things to make sure your Drop Zone has:
Hooks for backpacks and/or sports bags. (Or consider a large basket for all the backpacks, especially for kiddos who really do need to be able to just drop their bags.)
Hooks or hangers for jackets – at least one per person!
Labeled files or magazine holders for incoming art and schoolwork.
A designated area for shoes – this could be a beautiful basket, a shoe cubby or a set of shelves.
A bin or basket for each adult, to drop things like keys, sunglasses, wallets, etc.
A bin or basket for outdoor supplies such as sunscreen, wipes, masks and anything else you or your kids might need as you dash out the door.
Hopefully you already have a space like this in your home, and it just needs a bit of updating. If not, check out our YouTube video on how to create one!
---
Clean Out Artwork + Paperwork
On the note of bins for school and artwork, it's always good to start with a clean slate before the school year begins.
Our kiddos have created oodles of art projects and crafts over the summer! And while we love each piece equally, we also know that we can't realistically keep everything. So before summer is over, we have our kids assess everything they've made over the last few months and choose a few of their favorites.
Those get added to their yearly Artkive box. (If you don't know what Artkive is and are drowning in mounds of art projects, click here to read our blog post on it!) And the remaining ones get lovingly placed into our recycling bin or put back in the art cart to be used as scratch paper.
Depending on your kid's ages and comfort level, you may choose to do this task with or without them.
---
Put Away Camp Gear
We don't know about you, but when our kids come home from camp, they somehow come back with twice as much stuff as we sent them with! And in the bedlam of back-to-school prep, the last thing we want to do is sort through it all and put it away.
It's kind of like the suitcase you leave hiding in the corner for a few weeks after your trip. The packing part is so fun! The unpacking is not.
However, we've learned that the best thing for us to do is to rally and get everything laundered, contained and put away as soon as possible! The kids know to put all the clothing and bedding immediately into the laundry area, while toiletries get redistributed into the bathrooms.
It's also a great time to assess now what you might need to update for next summer! Did they grow out of their sleeping bag? Lose their flashlight? Run out of batteries? Making that list during the unpacking phase means a lot less chaos the next time around.
---
Edit Kids Clothing
Our kids are all weeds, which means they're constantly growing out of everything! So we know that back-to-school shopping is an every year task, which makes it the perfect time to also assess and edit what they currently have in their closet.
We prefer to do this before we do any clothing shopping, both to ensure we have an accurate list of what is needed AND to free up space in the closet before bringing new items in. Our sorting piles usually look like this:
To Gift or To Donate (any items they've grown out of that are in good shape)
To Repair (any items that still fit but just need a little TLC)
To Recycle (for the items our kids have worn beyond repair)
If you need ideas on where to drop clothing beyond your local Goodwill, check out our resources here!
Another tip to making this easier throughout the year is to keep a "Donation" bin in each kid's room that can be added to regularly. This will mean less items to sort before each school year!
---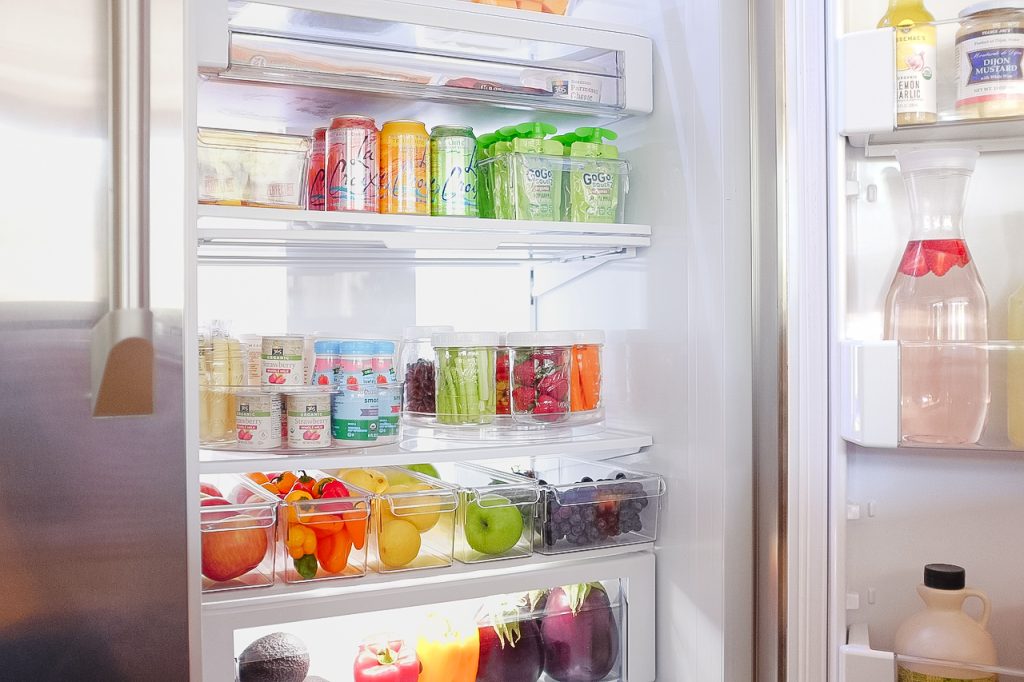 Stock Your Snack Zones
Did we mention our kids grow like weeds AND that they're always hungry?
As all parents know, snacks are a must. Long ago, We both decided that having designated snack zones in the pantry and fridge would make everyone's lives easier, rather than having to be the ruler of snacks ourselves.
We buy (mostly) healthy snacks in bulk, decant them into our favorite organizing containers and let our kids get what they need… within reason.
Don't know where to start? We recommend a few of the following:
Clear bins in the pantry, at kids' eye level, for easy access. These are great for things like seaweed snacks, protein bars and individually-packaged nut mixes.
Divided spin trays in the fridge, for fresh goodies, on the lowest level. Think applesauces, yogurts and string cheeses.
Drawer inserts in our pull-out fridge drawers. Ideal for smaller cheeses, meats, packaged olives and whole fruits.
Stock up on your kid's favorite snacks and know that you'll never have to hear "there's nothing to eat" again! (Just kidding, you'll hear that for as long as your kids are at home.)
And also, buy yourself some snacks, too!
---
Refresh The Food Prep Station
We're thrilled that we've reached the phase of parenting when all of our children are old enough to prepare, or at least help prepare, their own lunches!
But that doesn't mean our lunch-duty days are totally over.
We are now the keepers of the lunch packing stations, which means ensuring that all the items in this "zone" of our kitchens are neatly organized and accessible, in order to help our kids pack for themselves.
A few items in our lunch station include:
Lunchboxes
Water bottles
Food storage containers
Reusable lunch bags (these ones are our favorites!)
Packable silverware
Reusable straws
All of these categories have a designated home in our drawers and cabinets, in one area of our kitchen that is dedicated to food preparation.
We find that our kids do best in both preparing lunches (and tidying afterward) when everything has its own designated spot. That means a shelf for food containers, a spin tray for water bottles, a divided drawer for straws and utensils and so on.
If you haven't recently checked in on your own food prep area, take some time before school begins to make sure it's set up for success.
---
Enjoy The Last Days Of Summer
OK, we know this one is kind of a cheat!
But truly, the post summer camp and pre back-to-school season goes by in such a flash that we sometimes forget to enjoy these last few weeks! These are the weeks before the entire house has to get up at 6am, before homework once again becomes a daily task, before we have to start juggling calendars like our lives depend on it.
And there's something especially sweet about hanging out with our kiddos in pajamas until 12pm on a Wednesday. And baking cookies at breakfast. And staying up late for a favorite family movie.
Life is going to move a lot more quickly in the next few weeks, so we encourage you (and remind ourselves) to slow down and enjoy the last delicious moments of the sweet season of summer.
Cover image by Amy Bartlam for Practically Perfect
---
If you like this blog, check out the following for more inspiration: